California apartment building locks down residents and Kentucky couple placed on house "arrest" with ankle monitors after positive coronavirus tests…
Twitter and Facebook have been reporting a story of an apartment building in Ventura, California that is facing mandatory lockdown and the residents are being told that they "must" be tested.
As reported by Newstarget.com, a "California apartment building locked down under mandatory quarantine of all residents, with MANDATORY COVID-19 testing; all key cards deactivated, security guards posted at entrances during "lockdown."
According to notice issues by the manager of the building, they were told to "lockdown" per Ventura County authorities. The letter, obtained by Natural News is posted below.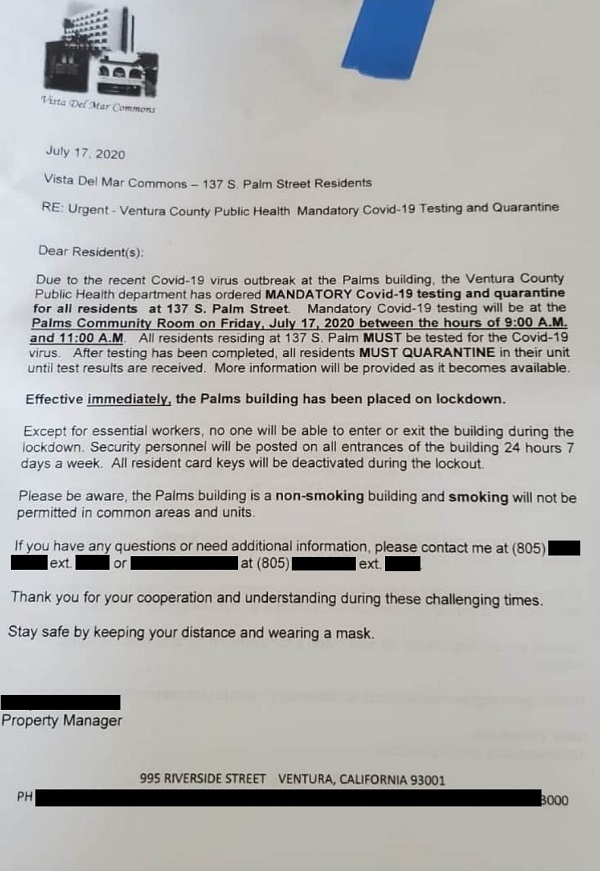 78 residents of the building were allegedly placed on lockdown and will continue on quarantine until test results, which were reportedly taken last Friday are available.
Reports of security guards being posted at the doors and digital keys being activated were also reported.
As reported widely, the fatality rate from COVID-19 is under 1% – and some consider that it may be as low as .4% – and it is lethal to mostly those over the age of 70 years of age. Has this ever happened for flu outbreaks?
Here's a video reporting the story – apparently this occurred after one (yes, one) resident tested positive for coronavirus.
@Davidharrisjr wrote an article about a Kentucky couple – Elisabeth and Isaiah Linscott – were put under house arrest and forced to wear ankle monitors when the wife refused to sign a self-quarantine order after they tested positive for coronavirus. The self-quarantine order stated that she would not leave her home unless she first contacted the Hardin County Health Department, as reported by WBTV.
Elizabeth did not want to sign the order as she believed the language was potentially harmful – if she or her child were to have an emergency she was not willing to wait for the health department to give her the ok to leave her home.
According to Isaiah Linscott, about 8 officials and five different cars showed up at their door last Thursday. They are recommending others to NOT get tested if you do not feel sick as "you will give the state the power to enforce a stay at home order on you" and contacts tracers can "demand contact information for anyone you came in contact with after testing positive."