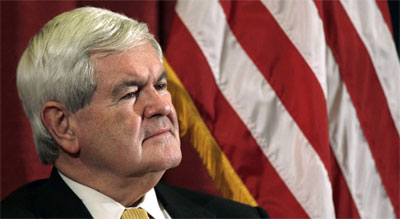 Newt Gingrich
Newton Leroy "Newt" Gingrich, born Newton Leroy McPherson; June 17, 1943, is an American politician, author, and political consultant who served as the 58th Speaker of the U.S. House of Representatives from 1995 to 1999. He represented Georgia's 6th congressional district as a Republican from 1979 until his resignation in 1999. | Newt Gingrich, Republican ,
Has the former Speaker let his ego override the party?
For one luminous moment, Newt Gingrich soared high in the polls and in the minds of his GOP bretheren, basking in his brilliant twinkle of glory just as a fatted seal by the seashore soaks in the radiant-yellow sunbeams of an August afternoon.

But now that his shot at the presidency is withering away in that scorching sunlight, much of the Republican party is left wishing that Newt himself would disappear just as quickly.

If Gingrich battles it out to the end--or more likely, until Super Tuesday, Republicans can look forward to weeks of bloody combat between him and Mitt Romney (and Rick Santorum?), translating to more potentially-irreparable divisiveness within the GOP.

Romney may claim that his struggles with Newt make him tougher, but when the frontrunner must spend time defending himself to his own party instead of winning over the general American public, he runs the risk of obliterating any hope of GOP victory come November.

So why does this seasoned Washington politician refuse to back down? In a word, ego. It takes a special kind of hubris to demand a knock-down, drag-out match to the death when the odds are so stacked against a win.

Looking back, one could say that self-adoration has long been among Gingrich's defining character traits. In 1994, he told the Washington Post, "I think I am a transformational figure."

In office notes made as speaker, he wrote about himself as a "teacher of the rules of civilization."

In a telling moment of self-grandeur during his 2012 presidential run, he famously stated, "by the end of my second term we will have the first permanent base on the moon, and it will be American."

Newt presents himself as a man concerned with promoting his own legacy, not the progress of a team, or in this case the Republican party.

It's not surprising that such a lofty mind would cringe at the thought of backing down, no matter how dismal his chances appear. Ego is nothing if not blind; no matter how low the poll rankings, or how harshly the media and opposition mock the almost-contender, it may not dissuade Gingrich from powering the vanity train through all Super Tuesday states, save his homeland of Virginia where he did not collect enough signatures to qualify.

Gingrich may not be a viable candidate anymore, but this does not mean he is powerless. He will need to poke holes in his opponents' platforms in order to keep up the pretense of a functional campaign. As long as the gloves stay on, he can inflict damage to the GOP, and the wounds may not heal by November when it really counts.