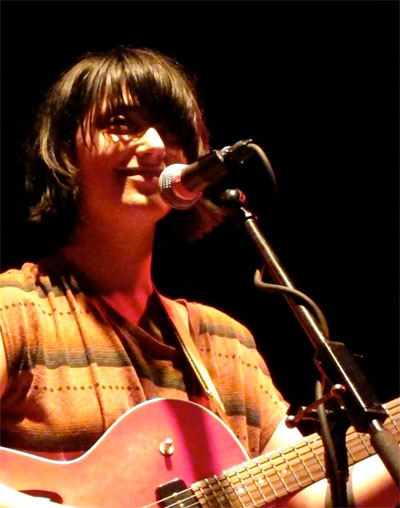 Sharon van etten
Singer/songwriter, Sharon Van Etten was born in New Jersey and is now based in Brooklyn, New York City. Her first album, "Because I Was In Love" was released in spring 2009. She released her second album, "Epic" on September 21, 2010 and her third album, "Tramp", on February 7th, 2012. | Sharon Van Etten, Singer, Guitar ,
Breaking Up Is Hard To Do
Remember those days when you had trouble moving on from a bad relationship? You just had this weird gravitational pull to do something creative, whether it's writing a blog, a song, or your own personal diary'Some argues "it's self-therapy"'Some argues "your blog is a self-indulging piece of crap"'I argue "Every stroke of writing feels like smearing salt to your wounds." Therefore, I stayed away and picked up a new hobby'at that time it was "Learning Macros on Microsoft Excel."

After listening to Sharon Van Etten's latest LP "Tramp", I am not quite sure why she is still talking about that same old "useless" boyfriend in Tennessee. Her first album, 2009's "Because I was in love" was a gorgeous collection of intimate acoustic songs directed towards "that useless dude in Tennessee." 2010's "Epic" is no different, but it was a leap forward in confidence and optimism. "Epic" pulled in some kickdrum, mellotron and electric guitar, and peaked beautifully with "Love More", a hollowing sentiment about "being young and taken advantage of (yet you believed it was love)", over a doubled harmonium and resounding bass drum, she barked "You chained me like a dog in our room/I thought that's how it was'It made me love, it made me love, it made me love more." I remembered after listening to "Love More", I just had to stop everything that I was doing and played the song a few more times. I can't quite figure out if Sharon is finally fed up & ready to move on OR is she yearning for the same affection from her oppressor?

A couple years later, still puzzled with the layers of ambiguity in "Epic", I am incredibly excited to hear "Tramp". Boy was I impressed. First, I am very happy with the vocal display, Sharon trades her timid/barely above a murmur voice for a more stark, direct, and confident tone. In lead single "Serpents", she interchangeably displays her emotional fragility and wounded vocals, but the jagged guitar play and clever drum fills (courtesy of The Walkmen's Matt Barwick) suggest Sharon has transformed into this pissed-off rocker who's ready to throw a few gut-wrenching jabs, as she exclaims, "You enjoy sucking on dreams/So I will fall asleep with someone other than you'I had a thought you would take me seriously/listen up!." Second, I am also very impressed with Sharon's natural progression as a true musician. Though "Tramp" is her most accomplished album so far, "Tramp" actually feels imaginative and confident ' I mean this is an honest work of an artist who's not afraid to try new things and still sound sincere (like typical Sharon Van Etten's records). Thanks to production assistance from the National's Aaron Dessner and a blend of established artists including Beirut's Zach Condon, Wye Oak's Jenn Wasner, and Julianna Barwick, Sharon finally have the full-bodied instrumental backing her incredibly tender and haunting vocal. In "We are Fine", Condon's breathy yet unmistakable yodel is the perfect remedy for Van Etten's anxiety while ukulele strums beautifully in the background. I think this is the highlight of this record! I am not saying this because I am obsessed with Zach Condon, NO! But if Etten's first record is about that Tennessee boyfriend and the second record is about getting over him, then I'm almost sure this record is about finding the ultimate cure and moving on. When she laments," "Take my hand and help me not to shake/ Say I'm all right, I'm all right", I think she has finally found the inner strength, self-realization, and self-consciousness she has been lacking these last 4 years (FYI, she moved to NYC in 2008 after the breakup). The song "Leonard", another ukulele-powered ballad, further confirms her separation with the toxic love as she candidly confessed, "I am bad at loving'I am bad at loving you".

Unlike any other Van Etten's works, "Tramp" is dense with matters of mistrust and insecurity but there's also an overriding sense of positivity here. In "Magic Chords", Sharon might haplessly flutters, "You got to lose sometime" but the continuous keyboard chords and marching drums suggest there are brighter days ahead. "In Line" is no different; she started out lamenting "I was a child, I wasn't worried" but three minutes into the song, Sharon becomes increasingly agitated and explodes as if she's cutting ties with her inner demons.

Also, in spite of her overwhelming fragility, I can't comprehend how that wounded vocal can display such impeccable bravado. Indeed, on gorgeous ballads like 'Kevin' and 'All I Can', it's truly unbelievable how Sharon manages to convey such painful redemption while trying to gain her stance at the edge of despair. Towards the end of the record, she's exhausted of falling in/out of love when she exclaimed, "Like cigarette ash, the world is collapsing around me" in "Ask." Nevertheless, her character and willpower triumphs when she ended this song by saying "Let's try to do the best we can."

Lastly, the question remains'Why did it take Sharon three albums to finally move on & maybe learn to love "better" in the future? My guess is that dwelling on the memories might be the best way for Sharon to erase the past. This works out the same in sports psychology (maybe Lebron should take some notes). Remember the failure again and again until it incites zero emotional response. Remember that disaster until you're so numb to it that it feels like someone else is doing the failing. Perhaps in the future Sharon will be driven more by the desire to correct the mistakes than the fear of reliving them. In the end, I have no doubt "Tramp" is a means of catharsis and in the process Sharon has created a career-defining album. For a girl who overcame so many adversities these last 4 years (she went from being homeless for 14 months and working in the mail room to being signed as an artist), I think "Tramp" is poised to reach a broader audience. Just like Van Etten's troubled romance, it's easy to get sucked in again and again with her music.