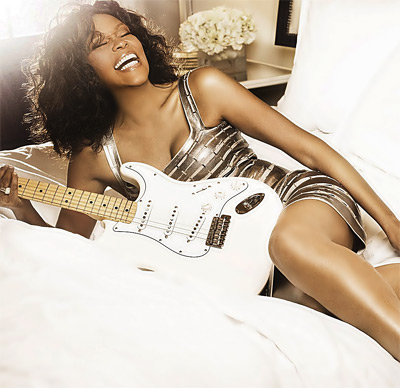 Whitney Houston
Whitney triumphed in so many areas and left her mark in my life, as well as many people around the world. She shared with us an incredible talent, a genuine grace and beauty, a strong will, an honest concern for her global community and a voice that will live on in the hearts of her fans forever. | Whitney Houston, Singer, Actress, Music,
How do you begin to describe the career of an iconic woman?
Whitney Houston was an award-winning singer, an actress and a model, succeeding brilliantly in all aspects of her career. It is very difficult to sum up the career of such an incredible woman and I know I cannot do it full justice, but I will try to touch on some of the moments that shaped Whitney Houston into the superstar she was. Growing up, Whitney was surrounded by strong and successful female singers and eventually followed in the footsteps of her mother, Cissy, her godmother, Aretha Franklin and her cousin, Dionne Warwick, gracing us with her beautiful voice. How did Whitney get to be such a presence in the music world and where did it all begin? Whitney's was a long journey, filled with many forks in the road, which soon became paved in gold for quite some time. I am very thankful, as I'm sure are many others, that she took the path she was destined for by pursuing her dreams and following her passions, allowing the world to hear her pure voice, revel in her natural beauty and be in awe of the raw talent she possessed.

Whitney's career began at a young age, when she started modelling for various magazines, such as Seventeen, Glamour and Cosmopolitan. Her exquisite looks, contagious smile and sweet nature appealed to many and also landed her a spot in a Canada Dry commercial around the same time she was modelling. While many were coming to appreciate Whitney's beauty, she was still focusing on her voice and making many appearances with her mother in nightclubs. She soon became quite sought after by many recording artists who were beginning to see the amazing potential of this young, beautiful woman.

It was in 1983 that Whitney finally agreed to sign with Arista records, after being offered numerous contracts by various labels. Arista knew they wanted her after seeing her perform only once with her mother in a New York nightclub and did all they could to persuade her to work with them. During that year, Whitney gave the world their first glimpse of her talent when she appeared on The Merv Griffin Show, with Clive Davis, who was the top dog at Arista. Soon after that, in 1984, Whitney was thrust into the music world with her first single, which was a duet sung with Teddy Pendergrass. That song, entitled, Love Language, became a hit and gave Whitney a small glimpse of what was to come for her.

I was only 4 years old when Whitney was beginning to emerge into the music world, but my first memory of hearing her voice was when I listened to, Saving All My Love For You, from her first album, entitled, Whitney Houston. There were so many great songs on that album and they all showed off the incredible range and angelic voice of a soon to be superstar. Her debut album was a huge success, and along with Saving All My Love For You, it offered her developing fan base two other number one hits with Greatest Love Of All and How Will I Know. It is hard to believe those songs were released 26 years ago, since they're still heard on the radio today, played again and again as great 80s hits.

Whitney's first record landed her many awards, including seven American Music Awards during 1986 and 1987, an MTV Music Award and even an Emmy for her performance on the Grammy Awards. The instant success of this record is memorable to many and the record itself is one of the greatest of all time. Whitney had the "it" factor, being so beautiful, having such a grace and ease about her and reaching unheard of notes without any effort. She touched many lives through her music and opened doors for other female artists, exhibiting a strength, confidence and sweetness along the way.

Following her debut album, Whitney's career continued to blossom as she recorded many other well-known songs, still often heard 20 years later. On her second album, Whitney had songs such as So Emotional, Where Do Broken Hearts Go and another huge hit entitled, I Wanna Dance With Somebody. Whitney became a household name in such a short amount of time and put out so many memorable songs that have lasted almost as long as I've been alive and will continue to be heard for years and years to come. Whitney Houston became as successful as Michael Jackson or The Beatles by winning many awards, breaking records and taking the world by storm. She gathered fans internationally, toured the world and touched the hearts of people far and wide.

Whitney came out with her third album in 1990, which I don't remember quite as well, but the title track, I'm Your Baby Tonight is one that I do know all the lyrics to. All the Man That I Need was another hit from that album, as well as We Didn't Know, which she performed with Stevie Wonder. By this time, Whitney was growing as a singer and trying out new styles with her songs, so the album was a success on many levels.

A few years after her third album, in 1992, Whitney married fellow singer Bobby Brown and had her first child shortly after they wed. That same year, Whitney's first film, The Bodyguard was released and I grew to love her even more. She partnered up with Kevin Costner in this guilty pleasure movie and played a singer who had threats against her life, thus needing Kevin Costner to protect her. I found myself drawn to Whitney's character and rooting for her and Frank (Kevin's character) to fall in love. I bought that movie on VHS and watched it so many times that the tape broke, making it a memorable movie for me over many years to come.

Because Whitney's character Rachel was a singer in The Bodyguard, the soundtrack was just as memorable as the movie. Watching the movie was like being at a Whitney Houston concert and made me want to buy the soundtrack, which I'm sure it did for many others as well. I remember singing songs from the soundtrack at the top of my lungs, imagining Kevin Costner was there, cheering me on back stage. The songs from that soundtrack I remember most are I Will Always Love You, I Have Nothing, I'm Every Woman and Queen of the Night. I'm not the only one that loved the soundtrack, however, as Whitney won three Grammys in 1994 and went on The Bodyguard World Tour in 1993-94.

The Bodyguard was my favorite Whitney Houston movie, but she was in other movies following that. She acted in her second movie, Waiting to Exhale three years later in 1995, which also had a successful soundtrack released to go along with it. Her acting career continued with her playing Denzel Washington's wife in The Preacher's Wife in 1996 and the Fairy Godmother in the TV movie Cinderella, which she co-produced in 1997. During this time in her life, Whitney spent most of her career focusing on her movies and the soundtracks that accompanied them, but her fans longed for another solo album ' well, I know I did, at least.
My hope for another album came true late in 1998 when Whitney released My Love is Your Love. It was somewhat different from her past albums as it seemed a bit more trendy, but had some great songs on it, such as It's Not Right But It's Okay, When You Believe and of course, My Love is Your Love. The album was a success and prompted another world tour. With so many successes under her belt, along with many nominations and awards, Whitney soon became the Top-selling R&B Female Artist of the Century and won Female Artist of the Decade, in 1999.

Since 1999, Whitney has continued to have some success with her career, releasing a few more albums, appearing on various TV programs, interviews, etc' I haven't followed her as closely, however, since the attention has turned to the obstacles she has faced in her personal life and I didn't want that to jade the picture I hold in my mind. With the rumors, controversy and negativity surrounding her at times, I chose to stop reading about her because I wanted to remember my teenage idol. I wanted to keep the Whitney Houston I heard in the 80s, blaring from my tape deck, alive and well in my mind. I wanted to see Whitney as she appeared in The Bodyguard, full of life, attitude, purity and offering such an honest portrayal of a memorable character. I didn't want the artist I loved to be replaced by one that I didn't recognize, so I held on tight to those memories and didn't let the new Whitney in.

Whitney Houston's career spanned more than 25 years, which is almost as long as I've been alive. She was a huge success and brought so much to the music industry, changing the way many people viewed female artists. Whitney triumphed in so many areas and left her mark in my life, as well as many people around the world. She shared with us an incredible talent, a genuine grace and beauty, a strong will, an honest concern for her global community and a voice that will live on in the hearts of her fans forever.