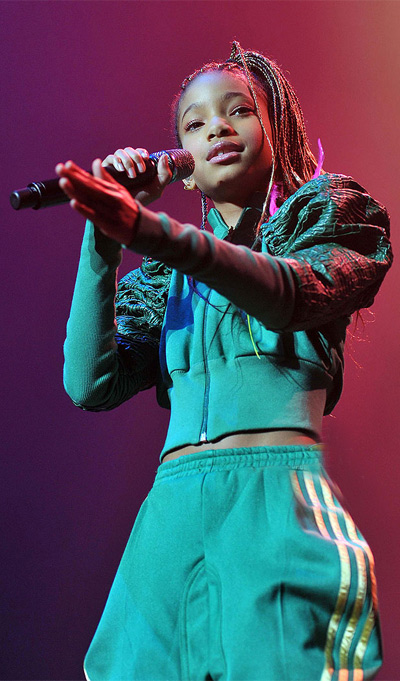 Willow Smith
Willow Camille Reign Smith (born October 31, 2000), often known simply as Willow, is an American child actress and singer. She is the daughter of Will Smith and Jada Pinkett Smith, and the younger sister of Jaden Smith. | Willow Smith, Singer, Will Smith, Jada Pinkett-smith,
Can talent be rooted in DNA?
While scientists have yet to find a gene that dictates whether a person will be successful or not, there are signs. The biggest sign is having two hardworking, successful parents who know how to keep their private life private. Willow Smith, at age 11 has already had a smash pop hit (Whip My Hair), acted in a blockbuster and is dubbed a little fashionista. Her parents, Will and Jada Pinkett-Smith are certainly a big part of this success.

Will Smith has been in our hearts and homes since he starred on the TV show Fresh Prince of Bel Air. Surely you remember the theme song: This is a story all about how my life got flipped, turned upside down' (You're welcome for getting that diddy stuck in your head). He also had a very successful music career, whether he was collaborating with DJ Jazzy Jeff or welcoming people to Miami (Bienvenido a Miami). Then there were his many movie roles, starting with the alien flicks Men In Black and Independence Day, then moving on to more challenging roles like I Am Legend (which Willow also appeared in) and The Pursuit of Happyness, where his movie son was his real son too. Willow's big brother, Jaden, got his start in movies working with daddy.

Then there's Willow's beautiful mother Jada. She's probably best known for her work in Poetic Justice (also starring Janet Jackson and Tupac Shakur) and a role in the Matrix trilogy. Her unique look has landed her many a job, and her work ethic and skill has kept her going for years. So with parents like these, is it hard to believe that Willow is a star at only 11?

Taking a page from dad's book, Willow released her single "Whip my Hair" in 2010. The song peaked at #11 on Billboard and sparked her career. She's signed to rapper Jay-Z's Roc Nation label and has released a sophomore album. The young girl is also known for her fashion sense. While her parents always look striking together, Willow and Jaden have been able to make their own fashion decisions, often opting for outrageous, but adorably chic ensembles. Most recently, Willow has shaved her head, giving her an even more distinct look.

While a parent's success certainly can't dictate how a child turns out (there are countless examples of this working against a kid), it certainly seems like Will and Jada did something right with this little girl. Some of this success can be attributed to the fact that her parents are the pop culture force that they are, but there is definitely talent required to have the career she has, at such a young age. More than genetics, it is the way these children have been raised that has helped them reach their current success level. It may also have something to do with the fact that their parents (outside of a divorce) are rarely seen in the tabloids. This sets an example that if you want to be famous, you have to work for it, not act out.