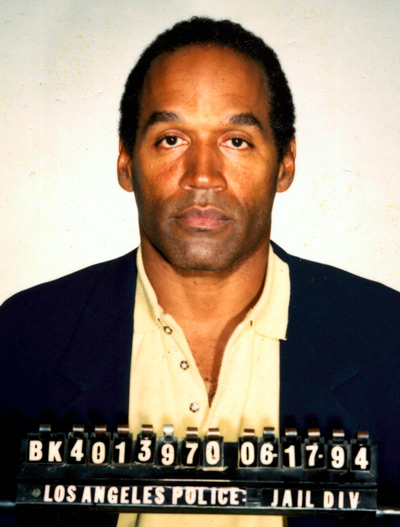 OJ Simpson
In 1995, Orenthal James O. J. Simpson, born July 9, 1947, was acquitted of the murder of Nicole Brown Simpson and Ronald Goldman after a lengthy, internationally publicized criminal trial – the People v. Simpson. A 1997 judgment for $33 million against Simpson for their wrongful deaths was awarded in civil court. | Oj Simpson, Murder, Mugshot, Football,
The status of OJ Simpson, currently in prison.
Orenthal James Simpson, or better known as O.J. Simpson was one of the greatest football players to ever play at his position. In college he won the Heisman Trophy at University of Southern California, then went on to light up the NFL. He won an MVP, Offensive player of the year and Pro Bowl MVP. This is what he was best known for until 1994.

O.J. Simpson was charged with the murder of his wife Nicole Brown Simpson and her friend Ron Goldman. He was acquitted of the charge, then later convicted in a civil court. After becoming infamous pariah, people expected O.J. to disappear, but he had other plans.

In a memorabilia deal gone awry in 2007, over a decade after the murder trial, Simpson was charged with robbery, kidnapping, coercion and conspiracy. He was found guilty on twelve charges and sentenced to 33 years in prison. Simpson is set to be released in 2017. So how will he do once released?

We're approaching nearly two decades since Simpson was first charged with murder, and it still seems fresh in the minds of many Americans. Whenever a controversial incident arises, the Simpson case is one of the first that people run to for comparison. So there's no telling how O.J. will fare once released, but you can look at the facts.

Simpson will be hard-pressed to get a job, unless he does a 180 and becomes the face of some organization for some cause. However, his crimes were not substance induced, or have yet to be proved so, which means finding an organization might be difficult. He's already had a failed book deal for his piece entitled "If I Did It." While the book did sell, it sold for the Brown family who was awarded the rights to the book by a bankruptcy judge.

There's also the newly released book by private investigator William C. Dear has put out a book entitled "O.J. Is Innocent and I Can Prove It." He claims the whole book is proof and documentation, not purely conjecture. Dear's claim is that the killer of Nicole Brown Simpson was actually O.J.'s son Jason, not O.J. If this is in fact true, then O.J. may gain back some love from the public. However, there will always be the memorabilia deal gone awry that he was certainly convicted of.

Once released from prison, it's up to the public how O.J. will fare. He's been in the public eye ever since he was in high school, and his sports memorabilia is still highly desirable because of his athletic achievements. That's one arena where his reputation has not tarnished, and it may be the only area, but that's up to O.J.