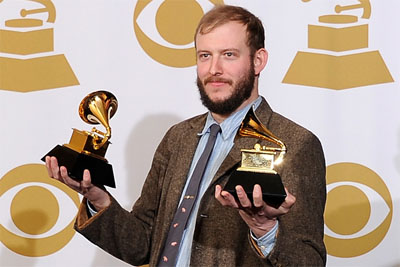 Mellow, folksy, and increasingly popular.
The first time I heard a Bon Iver song, I was at a girlfriend's apartment on the west side of Chicago. It was the middle of summer, and we were sitting on the back porch, smoking Pall Malls as our bare feet rested on the wooden deck just off the back of the building. In the whole time we'd known each other, music had been a major part of our lives and time together. We would sit around for hours, sometimes days, just listening to records and whole discographies from various bands'each of us introducing the other to something new every single time.

On this particular day, with the humidity pouring through the summer heat, she came outside with her speakers and put on a song. "This is going to break your heart," she'd told me. She was right.

The first track off of For Emma, Forever Ago, "Flume," is a heart-wrencher, but it only gets more despairing from there. Justin Vernon's lyrics don't usually make sense in any sort of literal way'and they only get more abstract the deeper into his catalogue you go. Instead, he focuses on metaphor and opaque imagery, using simple guitar and percussion melodies and a voice that can jump from baritone to a grainy, high falsetto at will. The effect is that the whole is vastly greater than the sum of its parts.

Tracks like "Creature Fear" and "Skinny Love" are heartbreaking in both their soft structure and earnest emotion, and the album closer "Re: Stacks" is a song with so much weight behind it that, when finished, you feel as if this album wasn't made by a man, but as if it came from you yourself and every bit of pain you'd ever been through.

In one album under Justin Vernon's Bon Iver moniker, he reached a place with his music most people can only dream of: He was not just another sad guy with a guitar singing songs about a broken heart; he somehow became the sad guy with a guitar singing about a broken heart, making everyone else seem like a crude imitation in the process.

The day Bon Iver released its second full album'Bon Iver now being a band and not just a moniker for a man'the girlfriend who'd introduced me to Justin Vernon's music was thousands of miles away living another life, and I had left the west side of Chicago for the sun-drenched despair of Los Angeles. I remember coming home from a long shift at work and noticing a voicemail I hadn't seen before. It was succinct: "Hey, it's me. Did you listen to it yet? Call me when you do."

I had bought it earlier and let it download while I worked, and now getting a chance to really be still and listen, I laid down and put my headphones on. What I got from the album Bon Iver, Bon Iver was exactly what I'd hoped for, yet a wholly different piece of work: The beautiful opaque lyrics were still there, perhaps more abstract than For Emma, but the melodies were no longer simple.

With a full band behind him, Vernon had taken the time to construct songs that were more complex and layered. Lyrically, everything still comes with some loose connotation to the abstractions and poetry of Henry David Thoreau, its Walden-esque imagery worn proudly upon its sleeve, but it no longer sounded like the beautifully vacant cabin recordings of a lone musician.

Tracks like "Wash." and "Holocene" are slow burns with delicate affectations; meanwhile, album opener "Perth" is the Bon Iver version of a thunderclap'the guitars laying down silky, sexy riffs while an almost militaristic snare pounds on dutifully, slowly crescendoing until almost halfway through when it explodes into a wall of sound. The percussion, horns, strings, and guitars all fight for attention, yet harmonize so smoothly as to seem unreal, otherworldly, and almost ridiculous in its synchronicity.

By the time I finished the album, I found myself thinking about that girl and about all the time we never got to spend together. All the places we never went, promises we never kept, and words that went unsaid. The way I felt was as opaque as the lyrics Vernon had written, and I wasn't sure if I was ready to admit that I still missed what we'd once had. I started to wonder what my life would have been like had I not chosen to come to California, but instead gone away with her like we'd joked about. It was at that moment that I realized something. I wouldn't be thinking about this if it weren't for Bon Iver, and I wanted to simultaneously thank him and tell him to leave me alone.

That, in essence, is what makes Bon Iver so special. All music comes with some kind of emotional connotation depending on the person; it's a sensory reminder of a specific moment in your life. But, the ability of Justin Vernon's music and lyrics to inspire that kind of departure from self'the desire to wonder about the what-ifs and never-were's'is truly a testament to his thought-provoking, striking imagery and musicianship, and the two Grammy awards he walked away with this year are simply icing on the cake.