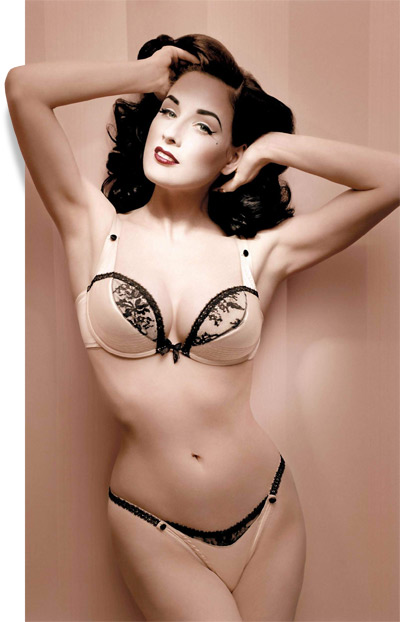 Dita Von Teese
Dita Von Teese was born Heather Renée Sweet on September 28, 1972, in Rochester, Michigan, the middle child of three daughters. She is an American burlesque dancer, model, costume designer, author and actress. Her mother was a manicurist and her father was a machinist. She is of partly Armenian heritage. | Photo: | Dita Von Teese, Burlesque, Model, Designer,
Dita Von Teese: The Queen of Burlesque and Body Positivity
Dita Von Teese recently launched her affordable lingerie line, Von Follies, for Target in Australia, followed fairly quickly by a catwalk show exhibiting the line. Her line has received praises, but most importantly so has her model choices. She employed a wide range of models with both ethnic and body diversity, from dark to tan to light skinned ladies and from the standard tall and lithe, to thin and curvy, to larger and full figured. She instructed the models to strip, or not indulge in, their spray tans so that their natural skin color was on display. This was partly a stylistic choice, as Ms. Von Teese herself maintains her porcelain white skin as part of her pin up aesthetic, but also, as she said on her twitter "To set the record straight, my Von Follies lingerie show 'no spray tan policy' means NATURAL skin tones will be represented, pale & dark."

To me, this show represents where body positivity should go, as well as the way we should celebrate all women. Von Teese lamented that the video highlights didn't feature as many of the larger and darker women as were present, calling out media re-representation of her event. Her line also carries up to an E cup and up to a AU size 20, approximately a US size 16. I know there's much brouhaha over whether or not stripping for a living counts as a feminist profession, but as a feminist, I have to say I love Ms. Von Teese, particularly her approach to body positivity.

In a recent interview, Von Teese had this to say "The world would be a better place if women kept their insecurities to themselves. I say, accept them, live with them. And if you don't want to accept them, change them?- that's fine, too." She's not saying you have to love your body, she's saying you have to stop dwelling on everything you hate about your body. And she's not judging you if you change something on your body. This ought not to be a revolutionary concept, but from all of the recent body shaming memes and articles out there-- particularly the ones shaming skinny girls in order to praise the curvy ones' I feel such an attitude is.

In many articles about eating disorders, there's often a kind of cathartic confessionalism to the author's narration, usually to admit that she too has experienced eating disorders or body image issues. As though she needs to apologize for succumbing to perfectionism and societal pressures. Here the body becomes another space onto which women try to map themselves and their worth in society, even while trying to break free from societal body image pressures.

This is where, and why, I find Von Teese's attitude so refreshing: she isn't shaming women for their feelings about their body. Insecurity is natural, but how we deal with that insecurity, how we choose to think about those negative feelings are what matter. Love your body, accept or change what you don't love, and then move the hell on. As, and here comes the confession, a woman who has deal with body image issues, I find this approach so refreshing. Instead of engaging in the cycle where we as women feel bad about our bodies, and then feel guilty for having these negative feelings about ourselves, and then back again, Von Teese's attitude circumvents this dangerous, unhealthy route.

We cannot achieve perfection. But we can achieve personal peace and we can stop criticizing other women for the way their bodies look: tall, skinny, fat, curvy, short, flat chested, big bottomed, whatever. So take a page out of one ecdysiast's handbook and learn to accept yourself as an imperfect, malleable being. I know I will.