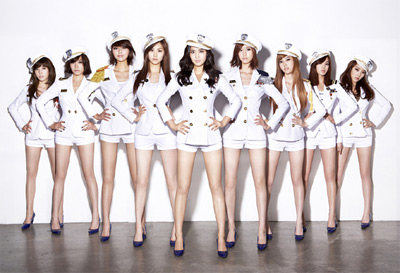 Girls' Generation
Girls' Generation is a nine-member South Korean pop girl group. The group began a foray into the Japanese music scene in late 2010, with the Japanese remakes of their 2009 Korean hits "Tell Me Your Wish (Genie)" and "Gee". Led by Kim Taeyeon, there's also Jessica Jung, Sunny, Tiffany, Kim Hyoyeon, Kwon Yuri, Choi Sooyoung, Im Yoona and Seohyun. | Photo: Nayutawave Records, a part of Universal Music | Girls Generation, Kim Taeyeon, South Korea, Music, Sexy,
K-Pop is not just Gangnam Style
Girls' Generation are a pre-packaged pop product of SM Entertainment, the so called 'K-Pop' stable started up by Lee Soo-man, South Korea's answer to Simon Cowell. This Asian style 'Fame' school picks out and trains up pretty young dancers, singers and well, entertainers to churn out bubblegum electro pop cum hip hop, and it's just pretty damn catchy!

So how do you recreate K-Pop style? Basically, you mix and match English keywords with impenetrable Korean, and set it all to an irresistible electric dance beat - then roll out the girls! In the case of Girls' Generation all ready trained up in voice, dance and razzamatazz and its going down a storm in Japan, where they are known as SoShi. And no, this is not just another serving of Asian cold fish, but nine hot girls from South Korea who belt out hits like '"Tell Me Your Wish" and "Gee".

In their video to "Gee" ' they all look pretty interchangeable, and they all look cute as candy. With synchronised dancing and close ups that reveal they all look the same, though adorable - ane with lots of different styles of hats to help us tell one from the other. Some have shorter hair though, but the standard style is glossy, long and dark. In later videos there's a bit of hair lightening going on, but as you still can't play 'Spot the blonde' it all gets a bit tricky. There are nine of them!

Meanwhile back at the ranch, South Korean rapper Psy (aka Park Jae-Sang) has gone global with his 'Gangnam Style' tune and video ' which has already had over six hundred million hits (and counting as of print date) on YouTube and hit the top of the charts in the UK and Australia. Described as 'the global pop sensation of 2012' by the British press, this video has to be seen to be believed (see video above).

Psy recently taught his 'rodeo' style dance to Britney Spears on the Ellen DeGeneres show. On a BBC Radio 1 interview, he explained you should 'imagine you are sitting on an invisible horse' and also that 'this is the point of the Gangnam style. Dress classy and dance cheesy'.

Gangnam is an area of South Korea that translates as 'south of the river' and that Psy compares with Beverley Hills in LA in terms of aspiration and lifestyle. So a middle aged man in shades sitting on an imaginary horse (and also the toilet) seems to have stolen the South Korean limelight from our Girls'.

Mind you, he surrounds himself with some pretty hot girls too, so you pays your money, you takes your choice. Hot, cute and poppy or catchy, comical and poppy? Either way, K-Pop seems set to stay. Well, until it runs out of its nine lives, or its 15 minutes of pop fame.