Mrs. Kennedy and Me
Clint Hill with Lisa McCubbin
Hardcover. 343 pp.
April 3, 2012. Gallery Books.
For the President of the United States and his family, the United States Secret Service must seem, at times, like a dominant, suffocating presence. There are few places in the world where the President, the First Lady, and their children, are not shadowed by agents from their respective protective details. As the world has become more dangerous and threats have intensified over the years, that protective cocoon has become tighter. The only place that the First Family is not closely followed by their Secret Service agents is in the Residence of the White House. But, even then, there are agents just outside the doors of the private family quarters, agents throughout the White House building, agents stationed around the grounds of the Executive Mansion, and even agents and anti-missile batteries on the roof of the White House. The protective detail of the Secret Service is required to protect the President and his family at all costs, often to the chagrin of those enveloped within that protective bubble.
On November 22, 1963, we saw why the Secret Service has to work so hard at that protection as President John F. Kennedy was shot and killed while riding in his motorcade in Dallas. The images of that day are haunting and unforgettable, even for those of us who weren't alive when it happened. The grainy color images from Abraham Zapruder's camera continues to demonstrate the need for heavy security when it comes to protecting our leaders and their family. What's amazing, however, is that in looking at most photographs of Presidents or their families, the Secret Service agents charged with their protection almost always blend in. There are dozens of photographs of Jacqueline Kennedy in
Mrs. Kennedy and Me
(2012, Gallery Books) by Clint Hill (with Lisa McCubbin). Many of them are famous photographs that I have seen many times before, yet only now, when it is pointed out in captions in the book, do I notice Jackie Kennedy's lead Secret Service agent, Clint Hill, at her side or right behind her throughout her time as First Lady.
In
Mrs. Kennedy and Me
, Clint Hill has finally told the story that he had never before wanted to share -- his time on Jacqueline Kennedy's Secret Service detail, where he loyally served one of the youngest and most popular First Ladies in American History. With the help of Lisa McCubbin, who co-authored
The Kennedy Detail
with the lead agents on President Kennedy's protective detail, Hill shares his experiences traveling the world and shadowing history with Jackie Kennedy.
Mrs. Kennedy and Me
is a benefit to the historical record, but it is also a deeply personal story. Perhaps nobody spent as much time in as close of proximity to Jackie Kennedy as Clint Hill from the time of JFK's election in November 1960 until after the 1964 Presidential election, about one year after President Kennedy's assassination. Hill accompanied Jacqueline Kennedy on her trips overseas -- both official and unofficial -- and was at her side throughout the triumphs and tragedies of the much-too-brief Kennedy Administration.
After serving on President Eisenhower's protective detail, Hill originally felt that being assigned the protection of the First Lady was a bit of a demotion. While Hill was understanding of the necessity of the First Lady's protection and accepted his assignment without question, he wondered if he would be missing out on the feeling that came along with protecting the President himself. In
Mrs. Kennedy and Me
, Hill shows that he quickly realized the importance of providing safety for the First Lady and her young children so that the President would feel secure in focusing on his job. Through their travels together, Hill and Jackie, who always refer to each other as "Mrs. Kennedy" and "Mr. Hill" seem to become as close to friends as their professional relationship allows. The First Lady, always concerned with privacy for her and her children, implicitly trusts the Secret Service agent and rarely disagrees with his recommendations or suggestions. Hill does whatever he can to help Mrs. Kennedy enjoy a somewhat normal life despite the burdens of the Presidency on her family and the constant glare of the world's spotlight on her.
The book shares the excitement of some of Jacqueline Kennedy's travels as First Lady. There are official visits, such as Jackie's trips to India and Pakistan, as well as luxurious vacations in Italy and Greece.
Mrs. Kennedy and Me
also recounts intimate celebrations by the President's youthful wife and children for weekends and holidays in rural Virginia, Camp David, and Palm Beach, as well as relaxing days with the President's massive extended family at the Kennedy Compound in Hyannis Port, Massachusetts and in perhaps the favorite destination for the Kennedys -- the ocean. Through it all, we see how devoted Clint Hill becomes to the woman he is charged to protect and we see a fascinating portrayal of John F. Kennedy, who is down-to-earth, unfailingly complimentary and polite, and always happy for any time that he could spend with his two young children.
Sadly, there's also tragedy in
Mrs. Kennedy and Me
. While Mrs. Kennedy is supportive of her husband and his work, the harsh glare of the Presidential spotlight is a difficult place to raise two very young children. When her husband is inaugurated in 1961, Jacqueline Kennedy is just 31 years old and still hopeful about seeing the world and experiencing life on her own terms. As the wife of the President of the United States, especially in troubled times for a world that went to the brink of nuclear war during JFK's term, it becomes clear to Jackie that there are many things that she can no longer do. The press hounds her and her family, wherever they go, and while Mrs. Kennedy handles everything with grace and dignity, it never becomes easier for her.
In 1963, the First Family find out that they are expecting their third child and Jackie waits as long as possible before sharing the news with the country and, with the help of Clint Hill, attempts to spend as much of the pregnancy as possible out of the public eye. The baby would be the first child born to an incumbent First Family since Esther Cleveland in 1893, but JFK and Jackie had lost two babies previously and Mrs. Kennedy worried about the pregnancy. Tragically, in August 1963, Mrs. Kennedy went into labor several weeks prematurely and little Patrick Bouvier Kennedy died with the President at his side just two days later.
Mrs. Kennedy and Me
describes the anguish of not just the President and the First Lady, but also of the Secret Service agents assigned to protect them and the White House staff. After working together so closely, everyone seemed to have genuine personal feelings for each other, no matter what their station. Hill notes that despite her strength, Patrick's death understandably seemed to rob Mrs. Kennedy of the light that she often had in her eyes. It took a few months, according to Hill, before he saw her smile regularly, and the death of their baby seemed to bring the President and the First Lady closer together than they had previously been.
As I mentioned earlier, whether it is because they are masters at blending into the scenery, or because the center of attention is so prominent, we rarely see Secret Service agents in photographs of President Kennedy or Jacqueline Kennedy. Yet, while flipping through
Mrs. Kennedy and Me
I see Clint Hill in photo-after-photo, as if someone had plugged him into the image since the last time I saw it. It's incredible to realize how close Secret Service agents like Hill always are to incredibly important events throughout history. They are unseen, but always present, and always, always serving and protecting our leaders so that they can do the work of the nation.
There is one image where Clint Hill's presence is unquestionably obvious, and it's an image that almost every American recognizes. Even if you do not know Clint Hill's name, you know the image, and it demonstrates that Hill wasn't merely close to history, but part of it. It's also why Clint Hill took so long to tell his story. On that tragic day in Dallas on November 22, 1963, two Secret Service agents reacted immediately when the first shot was fired from the Texas School Book Depository building. One -- Rufus Youngblood -- was riding with Vice President Lyndon Johnson several vehicles behind President Kennedy's limousine. When Youngblood heard the first shot, he jumped into the back of his vehicle, shoved the 6'3 1⁄2" Johnson to the floor of the car and shielded him with his body.
The other agent who reacted immediately was Clint Hill. Hill was in the Secret Service follow-up car, Halfback, directly behind the Presidential limousine. When the first shot was fired, Hill leapt from Halfback and ran as fast as he could to catch up with the limousine carrying President Kennedy, the First Lady, Texas Governor John Connally, and the Governor's wife. Before Hill could reach the Presidential limousine, however, the fatal shot struck President Kennedy in the head. For those wondering why it took nearly 50 years for Clint Hill to tell his story, perhaps the haunting details of those seconds as he tried to catch up to the Presidential limousine will help you understand: "The impact was like the sound of something hard hitting something hollow -- like the sound of a melon shattering onto cement. In the same instant, blood, brain matter, and bone fragments exploded from the back of the President's head. The President's blood, parts of his skull, bits of his brain were splattered all over me -- on my face, my clothes, in my hair."
It's the Zapruder film that captures the familiar image of Clint Hill. With her husband mortally wounded, Jacqueline Kennedy is seen climbing out of the backseat of the limousine and towards the trunk as Hill catches up to the car. For decades, people have wondered what the First Lady was doing. Some thought that she was trying to escape the vehicle, some thought that she was trying to help Hill gain his footing. Jacqueline Kennedy herself later had no recollection of climbing out of the limousine. Clint Hill saw what she was doing -- gathering pieces of the President's skull and brains from the trunk as he climbed on to the car. Hill shoved her into the backseat, covered the First Lady and the President with his body, and when he saw that President Kennedy's eyes were in a fixed stare, saw the amount of blood and devastation in the car, and saw the inside of the back of the President's head because of the gaping wound in his skull, he was the first to recognize that JFK was dead.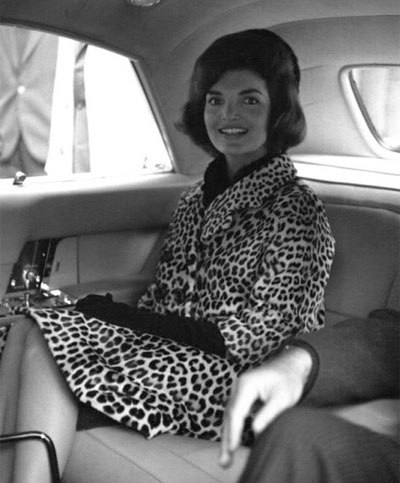 Jackie Kennedy

Jacqueline Kennedy Onassis, former First Lady of the United States, was particularly renowned for her fashion sense. |

The harrowing details of the assassination make it clear why Clint Hill was haunted so long by the memories of what happened in Dallas, and why it's taken him so long to tell his story. We are better off now that he has.
Mrs. Kennedy and Me
is a tremendous book that doesn't dance around the darker aspects of history, and that gives it an honesty and an attention to detail that is hard to find elsewhere because, quite literally, nobody else experienced this history as closely as Clint Hill. While there is tragedy, there is also a personal story of a remarkable woman who, despite her youth and despite her misgivings, handled her duties as First Lady with dignity and grace and, when her young family was torn apart before her eyes by an assassin's bullet, she became a symbol of strength for a shattered nation. You can't help but admire Jacqueline Kennedy, and while he tells the story as an observer, it's obvious that Clint Hill was also a participant in history and we're fortunate that, with the help of Lisa McCubbin, he's finally shared his extraordinary story with all of us.
Mrs. Kennedy and Me
by Clint Hill, with Lisa McCubbin, is available now from Gallery Books. You can
order the book from Amazon
, or
download it instantly for your Kindle
. Mr. Hill served five Presidents as a member of the United States Secret Service and later served as assistant director of the Secret Service, responsible for all protective details, before retiring in 1975. Ms. McCubbin also co-authored
The Kennedy Detail with former JFK Secret Service agent Gerald Blaine
and
her website is www.lisamccubbin.com
. For more information,
check out http://www.mrskennedyandme.com
and Clint Hill's Twitter
@MrsKennedyandMe
.