Vice President of PETA's Cruelty Investigations Dept.
Daphna and Aaron discus Hurricane Sandy, celebrity use and misuse of animals, preparedness, the Los Angeles ban on non-rescue animal sales, and awareness.
As the senior vice president of PETA's Cruelty Investigations Department, Daphna Nachminovitch has worked on countless cases of cruelty to animals, and her staff members field hundreds of calls every week from concerned citizens across the country. She also directs PETA's undercover investigations.
In one recent high-profile case, Nachminovitch worked with state and federal officials to execute what has since been coined the largest animal seizure in history: Nearly 27,000 animals were confiscated from international exotic-animal dealer U.S. Global Exotics in Arlington, Texas. The company was forced to shut down, and the operator is now a federal fugitive on the run. Nachminovitch also oversaw the case implicating North Carolina product testing laboratory Professional Laboratory and Research Services (PLRS)'a North Carolina product testing company that closed and released for adoption hundreds of dogs and cats within six days of PETA's breaking its investigation. A grand jury has since indicted four former PLRS workers on 14 felony cruelty-to-animals charges, marking the first time in U.S. history that laboratory workers have faced felony cruelty charges for their abuse and neglect of animals in a laboratory.
Under Nachminovitch's direction, PETA investigators have infiltrated and documented abuse and neglect backstage at Ringling Bros. and Barnum & Bailey Circus, at Georgia-based PETCO and PetSmart supplier Sun Pet Ltd., and at a Pennsylvania dairy farm that supplies milk to Land O'Lakes. Nachminovitch also directed PETA's 2008 investigation of a pig factory farm that supplies Hormel, which resulted in six workers' admitting guilt in the abuse and neglect of pigs'the first convictions of their kind in Iowa, the top pork-producing state in the U.S. She also helmed PETA's investigation of Aviagen's turkey factory farms in West Virginia, which resulted in the first-ever felony indictments for abuse of factory-farmed birds. The case led to five convictions and the stiffest penalty ever imposed in U.S. history for cruelty to any farmed animal.
In the wake of September 11, Nachminovitch personally led a rescue team that provided aid to animals who were left stranded in apartments near Ground Zero when their guardians were barred from returning to their homes. She also coordinated PETA's rescue efforts in New Orleans following Hurricane Katrina.
Nachminovitch also oversees PETA's low-cost spay/neuter clinics, which have "fixed" more than 74,000 animals since the program's inception in 2001. She also oversees PETA's fieldwork division'Community Animal Project'and doghouse program, which provides custom-made doghouses, straw bedding, toys, and other services to neglected dogs in southeastern Virginia and northeastern North Carolina. She has successfully worked with government officials to pass laws restricting or banning the chaining of dogs in several cities.
Born in Israel and having lived in Ivory Coast and Paris, Nachminovitch is fluent in Hebrew, French, and English. She graduated from the University of Illinois at Chicago with a major in communications and theater. Before starting at PETA in 1997, Nachminovitch worked at Chicago's Anti-Cruelty Society animal shelter and at Head Start centers doing speech and play therapy with underprivileged children on the Chicago's South Side.
---
Why does PETA sometimes use nudity in its campaigns?
Dave Navarro

Dave Navarro rocks. Whether he's touring with Jane's Addiction, hosting his radio show Dark Matter, or posing nude for PETA, he does it with the style and intensity befitting a rock star. Dave's latest gig is helping animals by baring it all in an ad for PETA's "Ink, Not Mink" series. Helping animals has never looked so good! | Photo: PETA.org |

Our mission is to get the animal rights message to as many people as possible. Unfortunately, this is not always an easy task. Unlike our opposition, which is mostly composed of wealthy industries and corporations, PETA must rely on getting free "advertising" through media coverage. This can be especially difficult with our fur campaign, since newspapers are often reluctant to cover our activities for fear of losing furriers' advertising dollars. But, not surprisingly, colorful and "controversial" demonstrations and campaigns like activists stripping to "go naked instead of wearing fur" consistently grab headlines.
The "Naked" Campaign began several years ago when demonstrators'both male and female'marched behind a huge banner proclaiming that they would "rather go naked than wear fur." More "naked" demonstrations were held all over the world, the idea caught on, and we started receiving offers from celebrities, including Christy Turlington, Marcus Schenkenberg, Kim Basinger, designer Todd Oldham, and Pamela Anderson to participate. Interestingly, we began receiving complaints about this campaign only after professional models and actors joined it, which we conclude to mean, among other things, that celebrity participation helps us reach more people.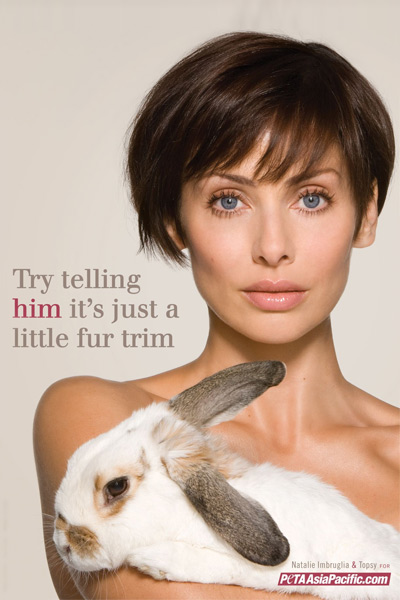 Natalie Imbruglia

Peta supporter Natalie Jane Imbruglia is an Australian singer-songwriter, model and actress. The "Torn" artist really shines in her new ad, which points out that even a "little fur trim" is the product of an industry that skins animals alive. | Photo: Peta |

The campaign has been hugely successful. It has been featured in nearly every major newspaper, including The Wall Street Journal, The Los Angeles Times, USA Today, and The Washington Post. And major magazines and television shows such as Us, People, and Entertainment Tonight have been inspired by the campaign to do stories about the anti-fur movement.
History does not look back unkindly on Lady Godiva. It is our hope that people will come to see that our modern-day "Godivas" have motives that are just as honorable.
NBC's New TV Show 'Animal Practice' Has Been Canceled!
October 2012: After hearing about NBC's new sitcom Animal Practice, which featured a monkey named Crystal and a number of other animals, PETA pursued all avenues to ensure that the show was canceled after only five episodes. The show's cancelation proves that viewers aren't interested in seeing animals exploited for entertainment.