"
Unity is strength' when there is teamwork and collaboration, wonderful things can be achieved.
"'Mattie J.T. Stepanek (poet, 1990-2004)
Noticing the need for service dogs in San Diego County, Tender Loving Canines Assistance Dogs, Inc. (TLCAD) was created, aspiring to offer what the majority of assistance dog organizations couldn't, extended customized training. TLCAD is accredited by Assistance Dogs International (ADI), a coalition of not-for-profit assistance dog organizations, striving to set exemplary standards in all areas of assistance dog training, placement, and utilization of assistance dogs. ADI also seeks to educate the public about assistance dogs, acting as an advocate for the legal rights of people with disabilities partnered with their assistance dogs. A non-profit since 1998, TLCAD has transitioned into focusing on two groups prominent in San Diego, Wounded Warriors, and children with Autism, presently placing dogs in the San Diego County only.
The first TLCAD dog placed with was a quadriplegic woman, originated from a car accident. She was a full-time high school teacher with a motorized wheelchair, and able to drive a customized van. Her present TLCAD dog, Ben, opens and closes doors, moves things out of the way, turns on lights, retrieves items, and getting help when needed; what Ben offered to the now-retired teacher was independence.
According to TLCAD President, Karen Shultz, a trainer when she first joined the organization eight years ago, the major difference between TLCAD and other service dog organizations is their customized training with the client, where the training process begins with one trainer and one dog, from "puppy to placement;" the 8-week-old puppies live at home with their trainers, many of whom are volunteers (TLCAD offers an 8-week service dog trainer course before given a dog, where that training is continuous). The temperament of the dogs are tested where desired traits include those who like people, a short recovery from and curiosity of loud noises and unfamiliar objects, persistence (in getting treats), walking by something frightening (such as an open umbrella), and wanting to follow you. TLCAD works with the team for 4-6 months until training is complete with final certification (when ownership of the dog is transferred to the client), working with them at home, work, and/or in public.
Customized training includes turning on lights. A Wounded Warrior could not enter her home when it was dark, as she was convinced someone was upstairs. The service dog, Gracie, would run up the stairs, turn on the lights, and do a check, before the Wounded Warrior would enter. Customized training is also useful for service dogs partnered with children with Autism. The service dog was taught to block the door when the doorbell rang, so that the child wouldn't open the door and escape.
Realizing the number of returning combat service-people in San Diego County, TLCAD established the "At Ease" program, specializing in helping Wounded Warriors, suffering from Post Traumatic Stress Disorder (PTSD) and/or Traumatic Brain Injury (TBI), transition into civilian life. The transition can be extremely difficult, particularly in daily tasks. Since January of 2011, TLCAD placed eight dogs in San Diego County, working with the Wounded Warriors' Battalion West at Camp Pendleton Marine Corps base, located in Oceanside. To Shultz, the service dog is a "valuable tool to accomplish their goals [in] getting their life back."
Service dog

Tender Loving Canines Assistance Dogs, Inc. (TLCAD) understands the benefits of placing dogs whose natural disposition and unique talents match a client's personality and individual needs. | Photo: | Dog, Tlcad, Service Dog, Wounded Warrior, War, Animal, Canine,

A common need among Wounded Warriors, hyper-vigilant of sounds and people, is for someone to "watch their backs." Many Wounded Warriors don't like crowds, people in close proximity, or loud noises, often looking for exits. The service dog is taught customized cues, such as "circle," where the dog will be on one side of the Wounded Warrior and walk to the other side from behind, keeping people at a distance. The "block" cue signals the dog to stand in front, acting as a barrier, between the Wounded Warrior and another person. "Cover" is similar, where the dog will stand behind as the barrier. The dog delivers an item to another person while keeping the Wounded Warrior out of the crowd with "deliver." Often, the Wounded Warrior will train with the dog on-base, feeling more comfortable with his/her military family. However, it is mandatory for the Wounded Warrior to also train off-base, as learning to work with the dog "to the best of their ability in stressful venues' [is a necessity] to be successful," according to Shultz.
Keeping people at a distance is an imperative task for the partner of a Wounded Warrior. It was difficult for a Wounded Warrior to go to the bank, as the lines were serpentine, forcing her to be close to others. The service dog, Sasha, would stand behind her so that she would have space, looking at the ground, not making eye contact. The dog can also sense anxiety, acting as a calming influence. The dog will lay on Wounded Warriors who have nightmares or sleeping disorders, licking their faces, realizing he or she is safe in their homes, no longer in the combat zone.
In addition, the service dog helps the Wounded Warrior redirect their anger or impatience. Many Wounded Warriors cannot handle talks of politics, nor have patience with people taking too long in a line; in the combat zone, these Wounded Warriors did not have the luxury of time to act. A Wounded Warrior was standing behind a man in a movie theater, who was taking too long to pay; the service dog would act as a distraction, such as giving a high-five, anything to help her get through the situation.
The service dog also offers emotional support, as Shultz comments, "Dogs don't judge," where they will lean in and just be there. Wounded Warriors commonly do not share their feelings, especially with their families. Sharing with the dog acts as therapy; the more the Wounded Warriors talk, the less scared they will become.
To Shultz, "Seeing how they were able to accomplish something small is a big victory." A Wounded Warrior could not take his two children out by himself. After working with Jag, he was asked to bring one of his children to the mall, asking his wife to go; she refused. He was able to go out on his own with Jag and his little boy, proud that he had that capability. He kept his leadership role to the dog, helping him get through the "hump." He is doing well and now has a business.
At times, Wounded Warriors feel guilt over having a service dog. Often, Wounded Warriors no longer need the dog after getting over the transitional "hump." A Wounded Warrior whose service dog had died; rather than acquiring another dog, he felt someone else needed a dog more. He is now in graduate school, aspiring to become a history professor.
The Wounded Warrior Battalion West established a protocol before the Wounded Warrior is able to apply for a service dog. Once the Section Leader has consulted the medical team, establishing the Wounded Warrior is eligible, the Wounded Warrior fills out the Post Traumatic Stress Disorder pre-application summary form (including those with traumatic brain injuries), or mobility assistance pre-application summary form (including amputees). If eligible, a one-on-one interview is conducted; if a dog's skills are a match to the Wounded Warrior's needs, then an extensive, full application is requested (including medical and neurologist records). Once a match is made, TLCAD will work with the Wounded Warrior and their dog, twice a week for the next 4-6 months. The application process is similar for veterans (as PTSD may be exhibited later), where he or she will fill out the summary application forms on the TLCAD website.
TLCAD does not have a waiting list; rather it has an "applicant pool," as the ultimate goal is to match the dog's skills to the individual client's needs, where the process can take as long as two years; the objective is to create a successful working team. An Access Test is also given to ensure the Wounded Warrior is able to handle the dog safely in public; only then is the dog allowed to live with the Wounded Warrior, given the service dog vest, and given public access. A certification test is also given to ensure all the customized and foundation cues have been retained in public, where there are distractions; the Wounded Warrior must be able to handle the dog with proficiency in order for the success of the team, becoming a part of daily life. The entire family must be involved, establishing ground rules, where that dog is a member of the family, but not a pet-companion. At times, dogs may deviate from what he/she was taught, where TLCAD is available for the working life of the dog. After certification, TLCAD will visit monthly for the next six months, then annually for the working life of the dog, ensuring the success of the team.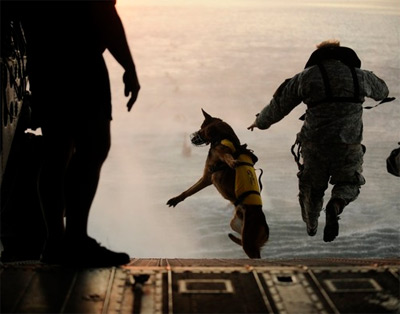 Military dog

Dogs in warfare have a long history starting in ancient times. From war dogs trained in combat to their use as scouts, sentries and trackers, their uses have been varied and some continue to exist in modern military usage. |

"No two Wounded Warriors are alike'" observes Shultz. However, the common thread is the role in which the service dog has in saving lives, returning to families their family unit (a family can become fragmented, unable to go to places together), transforming their lives, giving them independence. Shultz is hopeful, observing, it is a "monster gift [where] there can be no value put on that' [we] may not be able to bring the original person [a Wounded Warrior] back but we can get them close." The partnership with the service dogs helps to "give them a big part of their world back," empowering these awe-inspiring people. TLCAD places the service dogs at no cost to the clients, relying on donations.
For more information, please visit:
www.tenderlovingcanines.org
and
www.assistancedogsinternational.org