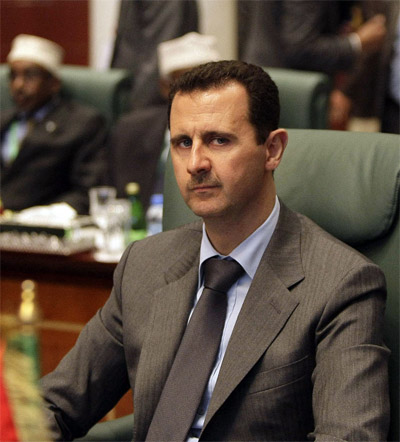 In a nod to McCain, Barack Obama ups the ante
In a move that may forever change America's relationship with the Arab world, President Obama has agreed today to send a troop to Syria. His name is Carl.

Marine PFC Carl Leggett, a veteran of the Iraq war, is on his way to rebel-held territory south of Damascus and will be stationed there until Christmas 2013. He'll be bivouacked with members of the 12th Islamic Brigade of the Clearly Unshaven.

During a break at the G8 summit in Northern Ireland, Obama took the microphone to issue a terse statement. "In light of my discussions with President Putin, it's become clear that the Russians are bolstering their efforts to prop up the Assad regime. Tyranny must be met with military might and I am confident that Carl will do a stellar job beating back Syrian forces."

When asked if more troops were soon to follow, the President smiled. "No no, you won't catch me in a numbers game. Right now, we're just going with Carl."

Pool reporters caught up with Leggett at his pool in Beaufort, South Carolina, hours before the call up. He seemed to be both honored and surprised by the announcement.

"I was in the middle of a bowl of Rice Chex cereal when (Joint Chiefs of Staff) General Amos called me this morning," recalled Leggett. "I wasn't sure I heard him too well because my cereal kept making this crunching noise when I ate it? But I understood enough to know that I'd be sent to Syria later today. What I didn't know was that I'd be the only guy going!"

In Washington, Senator John McCain (Old-Arizona), a vociferous critic of Obama's Syrian policy, seemed confused by the President's move. "I salute the President for taking this tentative action to prevent the slaughter of innocents in Syria. But what I don't get is why is he just sending Carl? I personally know that Lloyd and Dennis are available too. Three troops are what's needed now. I don't see how one troop can turn the tide."
The President's plan was met with great skepticism by Senate Democrats. "The buildup to war always starts with one troop," warned Senator Patrick Leahy (Old-VT). "Who can forget what happened in Vietnam in 1961 when Dave was sent? I plead with the President to reverse his decision and wait until the facts on the ground dictate the sending of Carl."

The anticipated arrival of Private Leggett was greeted with shouts of "Allahu Akbar!" (God is great!) and "Hummus Akbar!" (Hummus is great!) by the excited rebel forces. Said jubilant Brigade Commander Mohammed Kalil Halvah: "With Carl, all things are possible."