Isn't about time those creaky relics that we call the 10 commandments got an overhaul? I mean, come on folks, everything else does. Old ideas become passe and get replaced with new ones. Hollywood seemingly remakes every movie that was even remotely interesting. Songs get remade and updated. Men and women get facelifts, millions of women are walking around with brand new store-bought boobs.
Don't we need updated commandments that aren't based on the musings of furry-assed cavemen, but on the latest secular and scientific understandings of this improbable miracle we call life. Well I say yes! So without any further ado, let's roll baby'
I)
THOU SHALT NOT BELIEVE IN ANY GODS ANY MORE. PERIOD. END OF STORY. NO SQEALING.
All the gods in existence have never really existed, they are just the fantasies and hopes of the needy people who have invented them to live up there in the sky somewhere.
Walk out right now, look up into that sky, take a look upward'BOOM-you just got hit in the eye with a wayward pigeon turd, good-serves you right for listening to me.
Oh come on you slack-jaws, Santa Claus was invented for little kids and god was invented for us slightly bigger kids. Well, clown time is over. Up, up off those bony little knees of yours. Time to stand on your own two feet. Time to take charge of our own lives without the usual bullshit big daddies up in the sky. Time to grow up.
II)
CORRESPONDINGLY, THOU SHALT NOT BELIEVE IN ANY SEERS, HOLYMEN, PROPHETS, SONS OR DAUGHTERS OF GOD, MESSIAHS, DEVILS.
You wanted a holy man, but what you got was Jim Jones (Guyana) or David Koresh (Waco). Listen folks, as there are no gods to begin with, how can there be messengers or sons of gods?
All of the people that claim to be holy men, divine, and the like are either mentally ill, con men, or simply didn't exist to begin with (Moses, Buddha, Jesus.) Yes, you read me correctly. (Moses, Buddha, Jesus-all fictions.)
III)
HUMAN BEINGS, BY DEFAULT, ARE THE MASTERS OF THE UNIVERSE, ITS SUPREME BEINGS, AND CONTROL OUR OWN DESTINIES.
We are it. Makes ya wanna weep like a son-of-a-bitch doesn't it? There is nothing and no thing more powerful in the whole entire flippin' universe. No Klingons, no angels, no devils, no Tasmanian devils (Oh, sorry they actually do exist), no UFO pilots, no Captain Kirks, no Captain Crunch, (Oh yeah'), no ghosts, no beasts, no poltergeists, no vampires, no mind readers, no psychics. No'well you get the point'
IV)
THOU SHALTETH REALIZE THERE ISN'T ANY SUCH THING AS KARMA, INSTANT OR OTHERWISE.
Karma, dear friends, is Eastern religion's answer to the western religion's notion of life after death and punishment for our sins. Since the major Eastern religions don't buy the western "living after death" numb-nuttiness, they had to invent something on a par with it, to keep their particular meat-puppets subjugated like ours.
So you invent the idea of Karma, bad deeds beget bad deeds, good deeds beget good deeds. See, this way you can bullshit the numbskulls hopefully into doing good deeds so they will get good back. Only one problem. Karma is simply another invention of mankind that has no basis in fact. As always, humanity prefers to believe what it prefers true, so it invents the notion of Karma, because this is the way we think it SHOULD BE, the way it ought to be.
The truth? You can go out for ten years doing good deed after good deed, bringing food to the needy, medicine to the sick and helping little baby ducks swim across ponds full of alligators to their grateful mother duck (Oh quack freakin' quack.) Then, one day you walk out the door and a runaway steamroller rumbles down the street and smashes your fat ass into a 3 by 6 slab of beef jerky on the pavement.
There is no cosmic repayment for either good or bad deeds, here, there or anywhere. The only penalties for bad deeds is in our justice systems, imperfect as it is. Nobody is going to "get it" in the next life, in either heaven or hell. These are all simply notions that we would like, so we invented them.
V)
THOU SHALT HAVE SEXUAL INTERCOURSE WITH YOUR NEIGHBOR'S WIFE EVERY GODDAMN CHANCE THAT YOU GET. (Which will probably be pretty close to all the time.) BETTER TO DO IT ON THE SABBATH DAY, WEARING AN ORANGE BEANIE WITH A PROPELLER ON IT.
VI)
THOU SHALTETH REALIZE THAT TO LEAD AN ETHICAL LIFE, NO RELIGION IS NECESSARY.
Far, far from morality coming from religion it actually is being found to exist in centers of our brains, from our evolutionary past. Science has found that this sense of morality, from both our hard wired genes and our culturally inherited memes, was necessary for and enhanced our survival in our distal past. Morality is as firmly grounded in our neurobiology as anything else.
Then as usual religion comes along, co-opts a human behavior or trait that they have no understanding of and make it their own, taking credit for it. People, being slack-jaws go along because the authority figures tell them that this or that is so.
VII)
THOU SHALT REALIZE THERE IS NO SUCH THING AS FAITH HEALING.
Oh please, haven't you been paying attention? Well, in the history of the world there have been exactly 432,873,009,671 prayers as of 2 seconds ago. Really. My personal research on this has been exhaustive. That's 432 trillion folks. And in the 9,000 years since we began domesticating animals and raising crops, not one of those prayers has ever been answered. Well, how could it?
Quoting from the Associated Press, 2006, "in the largest study of its kind researchers found that having people pray for heart bypass surgery patients had no effect on their recovery. In fact, patients who knew they were being prayed for had a slightly higher rate of complications."
The study, which followed about 1,800 patients at six medical centers, was financed by the Templeton Foundation, which supports research into science and religion. That's 1,800 people folks!
One could go on and on debunking, but let's wrap this baby up. One final caveat. As has been noted other places, why does god discriminate against amputees? Which is to say, amid all of these miraculous healings not one of the millions of people worldwide, over the years, has ever had a missing arm, leg, finger or toe restored by god, not even one little wienie. Why? Is he pissed at amputees? Obviously the only type of problem that lends itself to this kind of "miraculous healing" is the kind that can't be seen or measured.
VIII)
THOU SHALTETH REALIZE THAT AS FAR AS YOUR DE-FACTO CREATOR, DNA, IS CONCERNED, YOUR ONLY TWO PURPOSES ARE SURVIVAL AND REPLICATION.
Despite all of the grand illusions we create for ourselves, the only reason we are walking this planet is because DNA as it is painstakingly perfected through evolution, wants you to first live and then replicate. The two primary encodings of our mammalian brains is to survive and then have truckloads of flippin' little babies. "Waa waa'baby wants his bottle."
Sex, of course, is the carrot at the end of the stick, the bribery, the ruse, to tricking billions of our fellow upright lung-fish into humping each other. As DNA was kind enough to leave us here in our sub-optimal states of malaise, pain and misery, we are left to try to intercourse some of our pain away. We get what we want (Screams of delight) and DNA gets what it wants (More stun-gunned like zombies populating the world, waiting to screw like crazy. Are you sensing a pattern here?)
IX)
THERE IS NOTHING INHERENTLY, INNATELY OR INTRINSICALLY GOOD OR BAD, SUCH JUDGMENTS ARE SIMPLY THE PREVAILING PREJUDICES AND BELIEFS OF THE LARGER SOCIETY THAT ONE FINDS ONESELF LIVING IN AT A PARTICULAR TIME.
Let's put on our thinking caps here.
X)
MOST OF OUR PROBLEMS OCCUR, NOT EXTERNALLY, OUT IN THE WORLD SOMEWHERE, BUT ONLY WITHIN OUR MINDS WHERE WE OURSELVES CREATE THEM BECAUSE OF THE LENGTH AND BREATDTH OF THE DISPARITY BETWEEN OUR ILLUSIONS AND REALITY.
Think of it this way. The world is turning (As The World Turns) and operating, JUST as it supposed to, just as it's meant to be. In fact, the world isn't even aware of you at all.
Many of these endless problems of yours don't exist out in the city or down on the farm or lurking around the alleyways, they lurk and live only in your mind where you create them. And the poor bastard walking down the street next to you, with his head swirling and lost in his particular problems, has just invented a different set of problems to struggle with. When we attune ourselves to the reality of life, and drop the expectations and fantasies we invent in our heads which inevitably lead to disappointment, we take giant strides in the liberation of our own minds from the pain and misery we create for ourselves. Will you act upon this? of course not, but I thought I'd put it out here anyway.
That will be 200 dollars an hour and I validate.
XI)
WHEN IT COMES TO EVOLUTION, THOU SHALT STOP CRYING ABOUT BEING RELATED TO MONKEYS. JEEZ'THAT'S THE GOOD NEWS. FURTHER BACK WE ARE RELATED TO SPIDERS, LIZARDS, SNAKES AND CROCODILES, EVEN WORMS, PRECAMBRIAN WORMS!
Actually you should be THANKFUL for evolution. Just think, tonight when you're going down on that breathtaking loved one of yours, if this was a few hundred million years ago, you'd be going down on a crocodile. Thank God for evolution!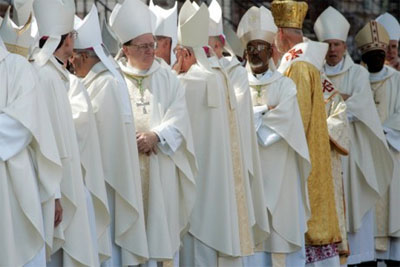 Bishops

The Catholic church does not believe it should have to cover costs of contraception for its employees, citing the First Amendment right of freedom of religion. Whether or not that freedom allows Catholic churches to deny contraceptive coverage to those employees who do want it is a hotly debated subject. |

XII) WHEN IT COMES TO THAT GREAT "MYSTERY" DEATH, THERE'S NO MYSTERY AT ALL, WE'VE ALL EXPERIENCED BILLIONS OF YEARS OF EXACTLY WHAT DEATH IS, PRIOR TO OUR BIRTHS.
Nabakov described our lives here as "brief cracks of light between two eternities of darkness." That sums it up pretty nicely.
XIII)
THE PRIMARY REASON FOR OUR TROUBLES IS THAT HUMANITY, IN ALL ASPECTS OF LIFE, BELIEVES WHAT IT PREFERS TO BE TRUE, NOT WHAT IS TRUE.
When we live in endless fantasy we are kept nothing but weak, stupid, trembling, superstitious and prone to flying planes into buildings because 72 virgins are waiting to service us. Question? Why do you think these 72 women are virgins, dumbass? They are probably ugly, 75 years old, rejected by all men up until now, just waiting to gum your nuts.
XIV)
AS WE ARE GENETIC, BIOLOGICAL ANIMALS THAT CRAWLED UP FROM THE MUD, OUR SALVATION ISN'T IN THE SKY, POLITICAL OR ECONOMIC SYSTEMS, PHILOSOPHIES OR PSYCHOLOGYS, BUT IN THE MEDICINE AND SCIENCE OF OUR OWN GENETIC FUTURE.
This is perhaps the toughest concept to accept. With human beings, think of it in terms of a hemostat, which would be something akin to a thermostat.
On a scale of 1 to 10, 1 being, let's say a chronic depressive and ten being an abnormality of happiness, let's say somebody like Jay Leno, most humans are only born with the biological capacity of a 4 or 5 on the happy, satisfaction scale. This is why no matter what we achieve materially, how many times we have sex, or do whatever else we do, we always return to this sub-optimal state that nature instilled in us. Beginning to get it?
This is why the various religious and political and economic solutions and all the rest are bound to fail as DNA was kind enough to WIRE US this way for it's own purposes (Survival and replication), not our purposes.
This is why our future, our salvation, as it were, lies in our genetics and the medicine we can invent to subvert the plans of our ancient, brutal Darwinian evolution and its negative inhibitory feedback (essentially dampers) and rewiring ourselves into better more advanced humans, something known as Transhumans (Not a scary word, just biologically, [essentially through genetic engineering], advanced humans.)
Okay'okay'I know that was 14 Commandments, but what the hell, once you start, it's hard to stop. Ask god, he'll tell ya'