The 2017 National Defense Authorization Act must reform the military's financial commitment to the Trans-Saharan partnerships, and its counterterrorism and "capacity-building" efforts in Africa, according to a new study by National Center for Policy Analysis Senior Fellow David Grantham.
Capacity building, similar to nation building, aims to create stability by modernizing a country's government, economy, and society; all in hopes of lessening the appeal and sway of radical ideologies.
"In the past 56 years, there's little evidence to support the idea that rebuilding and restoring developing nations is successful in stopping the spread of a dangerous ideology, such as radical Islamic terrorism," says Grantham. "Instead of cutting U.S. troop levels, we should reform the military's role in these expensive U.S. security assistance programs. They don't work, and we desperately need that funding elsewhere."
Grantham suggests a number of reforms within the 2017 NDAA, including:
Changing the language and defining the threat. The NDAA is a place to begin changing the language by specifying the threat we face. Ultimately, the words we use define the mission and rules of engagement.
Ensuring military investment is proportional to interests. Congress could require that the Pentagon perform a cost-benefit analysis for the Trans-Sahara partnership program. The Defense Department could justify expenditures by explaining how money facilitated tactical achievements within broader national security objectives.
Finding savings within different programs. To save money, Congress should look to the long list of counterterrorism programs or other appropriation accounts not subject to sequestration to fund Defense Department activity before considering additional troop reductions.
Reassigning defense duties to international peacekeeping operations. American taxpayers can expect to provide upward of $2.3 billion for U.N. peacekeeping programs in fiscal year 2015-2016. The Pentagon should scale back its role in partner programs and encourage greater reliance on efforts that already consume billions of dollars in U.S. tax revenue.
Dedicating funds to a quick reaction force. Congress could also approach Africa with a precise "identify-the-threat" mindset and dedicate Defense Department resources to defeat the threat.
"Africa is only one example of a broader agenda for U.S. security assistance policy in developing nations," says Grantham. "We don't want to contribute to the same problems in Africa that we helped create in Latin America in the 1970 and 1980's, where U.S. intervention incited the rise of multiple dictatorships."
To see more of the NCPA's work on reducing waste through the NDAA, visit the petition
here
.
---
The Trans-Saharan Counterterrorism Initiative

The Trans-Saharan Counterterrorism Initiative (TSCTI) is an interagency plan by the United States government, combining efforts by both civil and military agencies, "to combat terrorism in Trans-Saharan Africa. The military component of TSCTI comprises the U.S. efforts of Operation Enduring Freedom - Trans Sahara. The goal of TSCTI is to counter terrorist influences in the region and assist governments to better control their territory and to prevent huge tracts of largely deserted African territory from becoming a safe haven for terrorist groups." The first partner nations in the program included Algeria, Chad, Mali, Mauritania, Morocco, Niger, Senegal, Nigeria and Tunisia. Current membership includes eleven African countries: Algeria, Burkina Faso, Libya, Morocco, Tunisia, Chad, Mali, Mauritania, Niger, Nigeria, and Senegal. The goal of the alliance is not to fight in hot spots, but to provide preventative training and engagement with governments to help prevent the growth of terrorist organizations in the partner countries. Exercise Flintlock 2005, a joint military exercise first held in June 2005, was the first result of the new program.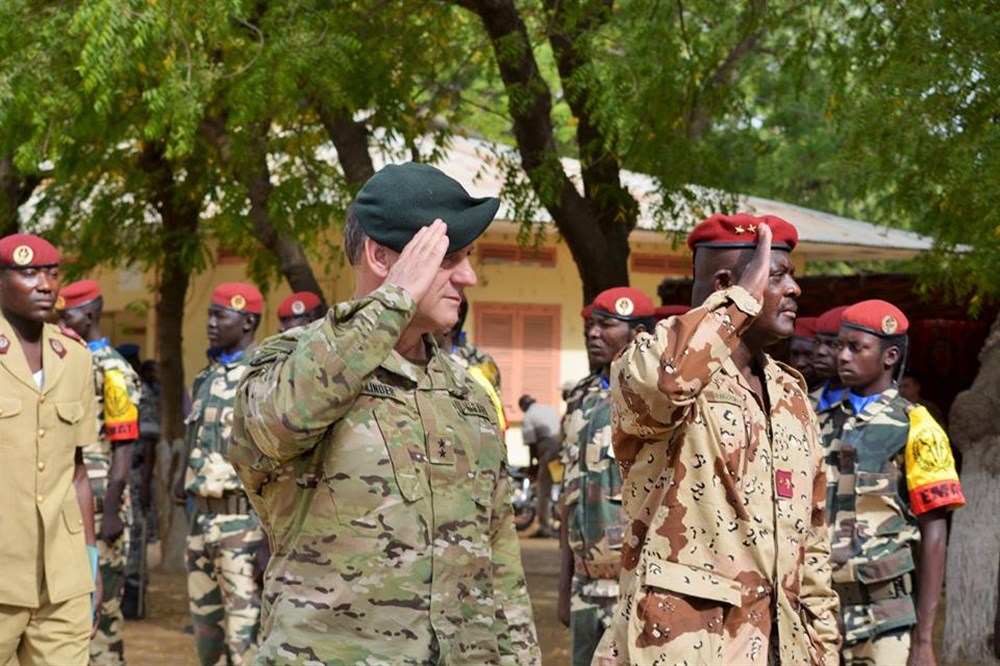 US Special Ops Africa

Flintlock 2015 Chadian Exercise Director, Brig. Gen. Zakaria Ngobongue (right) and U.S. Special Operations Command Africa Commanding General, U.S. Army Maj. Gen. James Linder at the closing ceremony for Flintlock in N'Djamena, Chad. Photo by U.S. Army Sgt. 1st Class Jessica Espinosa, U.S. Special Operations Command Africa. | Photo: Jessica Espinosa | Link | Special Operations, Nigeria, Security Training, Africa, Partner Nations, Chad, Flintlock, Cameroon, Humanitarian Operations, Tunisia,

The Congress approved $500 million for the TSCTI over six years to support countries involved in counterterrorism against threats of Al Qaeda operating in central African countries. In February 2007, President George W. Bush also authorized the creation of a new Africa Command to be established by September 2007, under which future African continental operations would be conducted. TSCTI followed the Pan Sahel Initiative (PSI), which began in 2002 by training soldiers from Mali, Mauritania, Niger and Chad and concluded operations in December 2004.
Critics of the initiative have questioned of the extent and presence of Islamic-extremist terrorism in the region and the actions and past behavior of some of the partner governments, who may be using the program to gain training, equipment and funds in order to effectively control and repress legitimate democratic movements in member states, or to fuel wars between neighboring African countries.