"I am Batman."
Words directly from Mr. Trump to a nine-year-old boy at a fair in Iowa State who asked if the Republican presidential candidate was
Batman
. The now defunct Gawker.com took a shot at Trump, it typical blind-leftist fashion with a story titled; "
Donald Trump lies to little boy
."
From
CNN's writeup
of the event:
"You could see a cow made of butter or a 711-pound Giant Atlantic Pumpkin. You could eat a bacon-wrapped rib on a stick and drink a 32-ounce Miller Lite while watching a one-man band play and sing "Mustang Sally."... But here in the parking lot was something else altogether: a chance to ride in a customized Sikorsky S-76B helicopter with one of the richest and most famous men in America."
Maybe Trump
actually is
Batman. Here are 10 reasons why:
1. They're both playboys worth billions.
Like Bruce Wayne—Batman's secret identity—Trump is a billionaire, who has been photographed with a series of beautiful women over the years.
2. They both have rich dads.
Trump's real estate career began at his father's company, where he bought properties in Queens, Brooklyn, and New Jersey. Bruce Wayne's father owned and operated Wayne Enterprises, the company Wayne inherited.
3. They both live in a home named after themselves.
Trump's primary residence is a penthouse at the Trump Tower on Fifth Avenue in Manhattan. Batman lives at Wayne Manor, a palatial estate on the outskirts of Gotham City.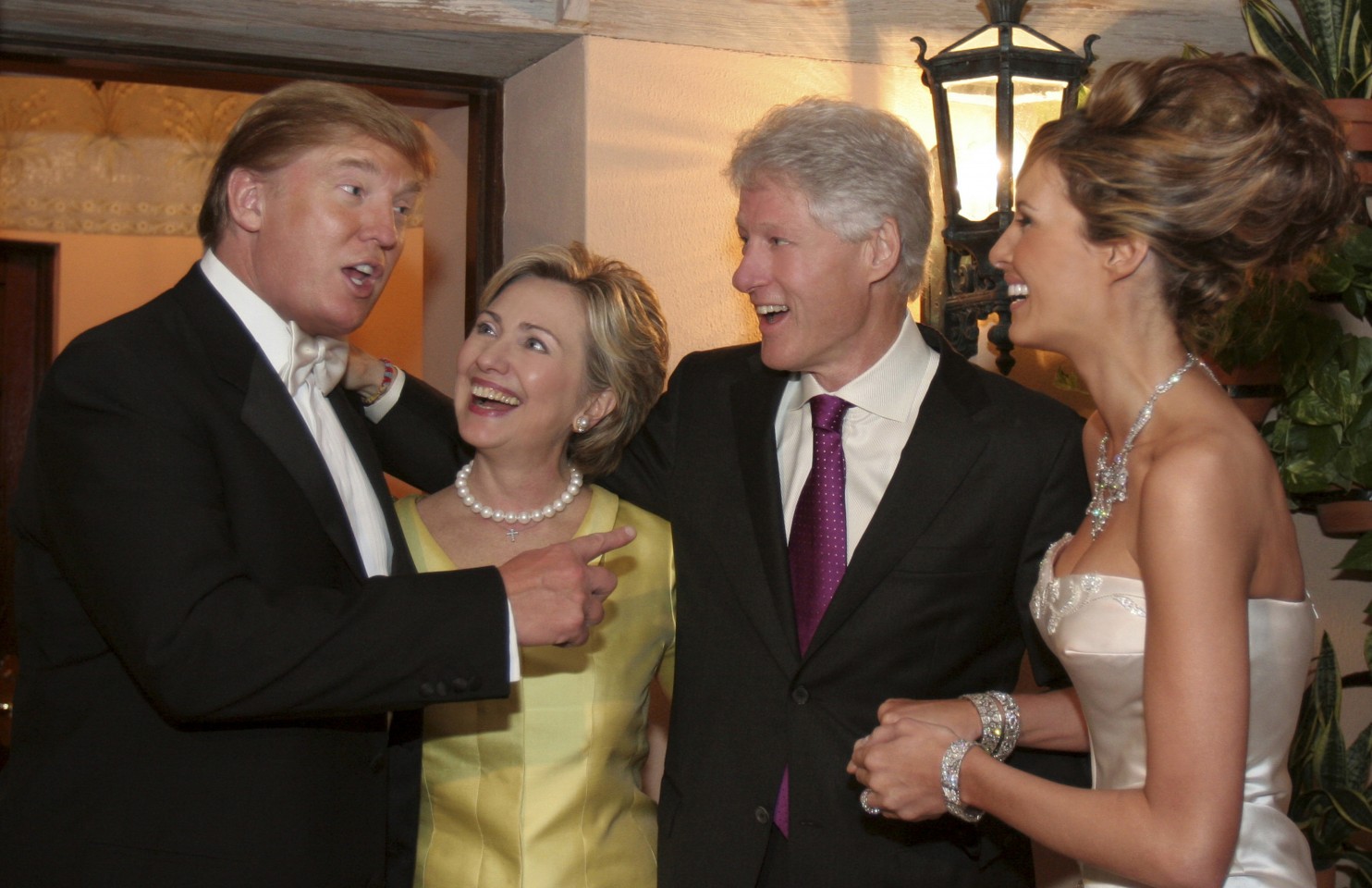 Trumps and Clintons

Newlyweds Donald and Melania Trump with Hillary and Bill Clinton at their reception at the Mar-a-Lago Club on Jan. 22, 2005, in Palm Beach, Fla. | Photo: Maring Photography | Donald Trump, Hillary Clinton, Bill Clinton, Melania Trump, Wedding, Reception, Party,

4. They both have a butler who tends to their secrets.
Batman has Alfred. Trump has Anthony P. "Tony" Senecal, according to a 2008 Newsmax story. Senecal, the story said, "is not about to tell you about the gorgeous young women who swarmed after Donald before he married Melania Knauss. Nor will he disclose the secret of Donald's hair."
5. They both aim to solves mysteries.
Batman wants to know who's terrorizing Gotham. Trump tried to find President Obama's 'real' birth certificate.
6. They both fight enemies with two faces.
Trump takes on two-faced politicians like Hillary Clinton and Jeb Bush. Batman takes on the super-villain Harvey "Two-Face" Dent, a former politician who literally has two faces.
Two-Face

Played here by Aaron Eckhart, Two-Face is a fictional supervillain appearing in American comic books published by DC Comics, commonly as an adversary of the superhero Batman. The character was created by Bill Finger and Bob Kane and first appeared in Detective Comics #66. | Photo: DC Comics | Aaron Eckhart, Batman, Two-face, Dc Comics, Gruesome, Makeup, Face,

7. They put their logos on everything.
8. They travel in style.
Over the years, Batman has availed himself of a car, boat, submarine, helicopter, and airplane. Trump has a fleet of cars, a private jet that cost him $100 million, a $7 million private helicopter, and a custom-built motorcycle made out of 24-carat gold.
9. They both have secret ties to politicians.
Batman meets secretly with Commissioner Gordon. Trump talked on the phone with Bill Clinton.
10. They're both the hero that America/Gotham deserves.
But can they fit the bill?
---
Thanks to Michael Sebastian/Esquire.