Padma Lakshmi and others from India eat beef. Why?
You thought you had it down: Hindus worship cows, and would deem it a sin to raise a morsel of beef to their lips. Since India is predominantly Hindu, it's easy to assume that no one in the country owns a steak knife. The truth, however, is that all cultures have variance, and Hinduism is no exception.
Despite the common misconception, Hindus do not believe cows are gods. As Hinduism Today newspaper reports, their religion views the female bovine as a symbol of the Earth as well as all living beings. They also acknowledge the cow as a "giver," taking only grass and water but returning milk, butter, yogurt and other dairy delicacies. The cow's docile nature adds further to its hallowed image. In the streets of India, cows are adorned with garlands and typically only handled with the gentlest touch. Therefore, most Hindus shun beef.
Since nearly one-fifth of India is not Hindu, however, many residents don't hold this sacred view of cattle. Muslims make up 13.4 percent of the population, and the remainder is mainly Christian, Sikh, Buddhist and Jain.
In addition, Hinduism is a loose set of beliefs without hard-and-fast rules. Unlike Judaism, Christianity or Islam, Hinduism doesn't have a single set of commandments. There are many sacred texts, and followers view their faith as a culmination of lessons from numerous ancestors. The Vedas are the oldest and most widely followed scriptures, but there are dozens of others to fit into the many variations of Hinduism. Some Hindus are just fine with eating beef.
In addition, Western society is affecting Hindus just as it is most other peoples. With 2.29 million Hindus in America as of 2008, according to statistics from the Hindu American Foundation, popular culture is rubbing off. HAF also reports that Hindus run 40 percent of Silicon Valley startups, a sign that their culture is keeping up with the times.
Of course, many still raised their eyebrows when Padma Lakshmi, a Hindu, suggestively devoured a drippingly-juicy hamburger in a 2009 Carl's Jr. commercial. The controversy was as much about her air of sensuality as the forbidden meat; Indians frown upon displays of affection and romance. While Americans may view acts such as handholding as sweet, Indians often view them as vulgar, and the suggestion of sex is unspeakable to many.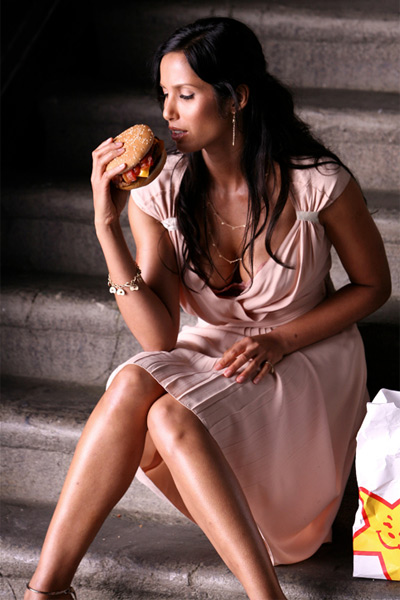 Padma Lakshmi

Padma Lakshmi, is best known today as the no-nonsense host of Bravo's hit TV show, "Top Chef," where her culinary expertise and opinions can make or break the aspirations of competing young chefs. Padma's palate still craves a beloved burger from her youth that helped solidify her transition from a vegetarian to a full-blown carnivore. | Photo: Carls Jr. |

Back to beef, the Indian population is mainly vegetarian. The U.S. Department of Agriculture surveyed their dietary customs in 2001, and found that less than 30 percent of the population eats animal flesh regularly. This is often an ideological choice, but sometimes a matter of economics'many Indians simply can't afford meat.
Eating habits are an amalgam of culture, tradition and taste. While you won't find many hot dog stands in India, natives are diverse in their lifestyles. With a population of more than a billion people, there are countless individual culinary preferences in India, just as in the U.S.
[Background photo of Padma:
Aaron Stipkovich
]