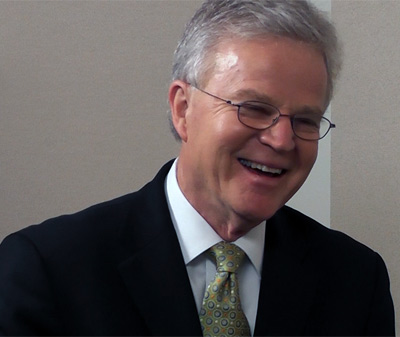 Buddy Roemer
Roemer became a delegate to the constitutional convention in his state where he helped write the Louisiana Constitution. Buddy then served four terms as U.S. Congressman, then two as Governor in 1988. | Photo: Aaron Stipkovich | Buddy Roemer, Presidential Candidate, Americans Elect, 2012,
GOP Presidential candidate announces change on Stipko Live
Aaron Stipkovich brings the former two-time governor in to Stipko Live studios to discuss his party change strategy. Buddy's previous statement read;

"Tomorrow, I will formally end my bid for the GOP nomination for President of the United States. As the GOP and the networks host debate number twenty-something this evening, they have once again turned their backs on the democratic process by choosing to exclude a former Governor and Congressman. I have decided to take my campaign directly to the American people by declaring my candidacy for Americans Elect. Also, after many discussions with The Reform Party, I am excited to announce my intentions of seeking their nomination. It is time to heal our nation and build a coalition of Americans who are fed up with the status quo and the partisan gridlock that infects Washington. Together, we will take on the special-interests that control our leaders and end the corruptive influence of money in politics so we can focus on America's top priority ' jobs."

---Buddy Roemer


---

Governor Roemer served four terms in the United States Congress from 1981 ' 1988 as a conservative Democrat who often broke ranks with his party to vote with President Reagan, and was Louisia
No Tax Loopholes or Special Interests. Energy Innovation & Independence. $100 Donation Limit
na Governor from 1988-1992 as both a Democrat and Republican.

During his tenure in the Governor's office, unemployment in the state dropped by approximately half, the state budget was balanced all years despite inheriting a huge deficit, teacher pay was linked to performance, education accountability standards were enacted, government unions were challenged, and sweeping campaign finance reform legislation was passed.

Since leaving public office, Governor Roemer has been involved in a number of business ventures. Most recently, he served as the founder, CEO, and President of Business First Bank, a small business community bank with approximately $650 million in assets that took no bailout money from the federal government.

Governor Roemer lives in Baton Rouge, Louisiana, with his wife Scarlett, and is the father of three children. He received his undergraduate degree from Harvard College and his M.B.A. from Harvard Business School.