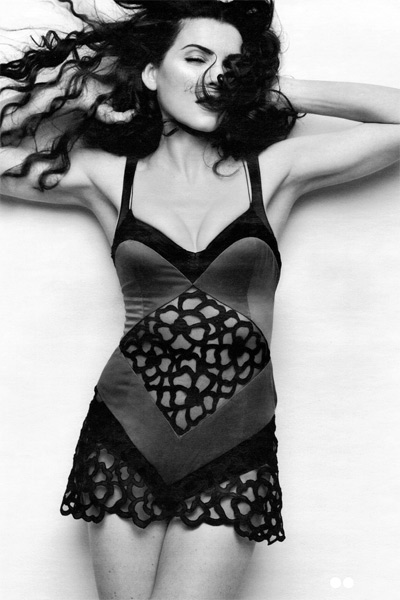 Julianna Margulies
Julianna Luisa Margulies, born June 8, 1966, achieved success in her regular role on NBC's long-running medical drama ER. She holds the record for winning more Screen Actors Guild Awards than any other person. She won six times for her work on ER, and twice for her performance on The Good Wife. | Julianna Margulies, Er, The Good Wife, Actress, Sexy,
The definition of poise and grace in an actress
In the entertainment industry, one day you can be on the top of the world and, the next day, you could feel like the lowest of the low. The true artists are the ones who prove that they have staying power. Julianna Margulies is one of those artists, an actress who has played a range of roles from a despondent nurse in ER to a resilient wife who works through the shambles of a marriage in The Good Wife'and she does it all with poise and elegance.

Since the very beginning, the arts have had a pivotal role in Margulies' family. Her mother was a former dancer with the American Ballet and her father worked in advertising. She obtained a Bachelor of Arts from Sarah Lawrence College. Following graduating, she obtained her first role in Out for Justice, a crime film focused on a Brooklyn cop who attempts to track down the person who murdered his best friend. Following that role, she worked in a number of regional theater productions, participated in a variety of national television ads, and guest starred in different television shows. Even though she works in television, it's ironic that Margulies didn't grow up watching the medium.

"One year, my grandmother had given my mother a television because she thought it was ludicrous that we didn't have one and we were allowed one hour a week," commented Margulies in an interview with Anderson Cooper on her childhood without television.

She later on became a regular in ER, a show focused on emergency room doctors in Chicago. In ER, Margulies played Nurse Carol Hathaway, a registered nurse and nurse manager who felt that there was a lack of recognition for nurses and dealt with a number of personal crises. In 1994, she won an Emmy Award for Best Supporting Actress for her role as Carol Hathaway.

Apart from her work in ER, Margulies is known for her role as Alicia Florrick in The Good Wife. She plays an attorney who returns to work in the legal world after discovering that her husband, an Illinois State Attorney, was involved in a sex and corruption scandal. The legal drama has highlighted the character's journey in balancing familial obligations and career aspirations.

"I enjoy watching her character grow and being able to help in any way that I can by playing her, it's so much fun," Margulies said in a CBS clip promoting The Good Wife.

Since then, Margulies has won numerous honors for her work on the show, including a Golden Globe, two Screen Actor Guild Awards, and the 2011 Primetime Emmy Award for the Outstanding Lead Actress in a Drama Series.

"It's too good to be a true, I hope no one pinches me because I don't want to wake up," Margulies said in an interview at the 2011 Screen Actors Guild Award on the cult following of The Good Wife.

Besides her work on the small screen, Margulies has acted in a number of stage productions. She describes herself as a "theater geek." The different productions she's participated in include Jon Robin Baitz's Ten Unknowns at the Lincoln Center and also a showing of Eve Ensler's Vagina Monologues.

Next up, Margulies will be seen in Stand Up Guys, which is currently filing and features Al Pacino, Christopher Walken, and Alan Arkin.