Aaron Stipkovich: What led to forming the World Classic Rockers (WCR) instead of an original-music band?
Nick St. Nicholas: The World Classic Rockers idea was a common sense idea, growing out of a vacuum created by the falling apart of Steppenwolf, a once prominent musical force within the industry. Years will have gone by without an answer on how to survive in the world of show biz, especially as a bassist/singer with no education, several ex-wives, no direction, no set goals, but with a lot of friends encouraging me to keep going, keep playing wherever. Trying to surface with a bunch of original songs without street-level meaning is like a washed up survivor on the beach, dragging a fishnet of coconuts to sell to a drug dealer on some deserted island. The only answer was the strength in numbers routine and get half a dozen folks in the same boat to perform each others songs... like, I would get a drummer, couple of guitarists, a keyboardist, two or three singers with gold and platinum histories, call it
World Classic Rockers
and try selling the idea in Las Vegas at the Hilton's Fairs and Exposition Conference... all the agents, buyers, promoters said NO! They said your idea is bad, doesn't add up... don't do this... it's a rotten idea and will never work... get a real job!!
AS: What resistance did you encounter from potential band-members?
NS: It was up and down, sideways, over the top, and smooth as silk trying to re-install a commitment shared by most members of any band during the hay-days. You're doing what now?... asked Bobby Kimball, former lead singer of Toto throwing his check at me after a performance at the Date Festival in Palm Desert... who the fuck are you? I told him... It's me Nick, the same guy that asked you to be a member of WCR just before you took a hit of whatever... maybe it was just water... Only Bobby would remember. Randy Meisner, former bassist/singer/songwriter of the Eagles was the total opposite, amazingly grateful, respecting, thankful, and amazing with the fans.
AS: How do you choose who to invite to the lineup?
NS: As World Classic Rockers rolled around searching for granite, it became a hit and miss event... Denny Laine "Wings" guitarist/singer/songwriter stayed with the band for over 5 years while his former band mate Denny Seiwell (drummer) from Paul McCartney's group decided to opt out and return back to the civilized world. I was never looking for anyone... anyone would be somewhere (nightclub, recording studio, baseball park) and would then create a conversation hoping to end up with a mutual exchange of contact info.
Classic rock fans want songs they're familiar with. End of story.
AS: Classic Rock, by it's nature, has been around for decades. Do WCR fans get what they expect to see and hear?

NS: I think fans of old and new do get what they're looking for, or expect to see and hear. I assume the position of making sure they do. Like a combination lock, it takes a carefully planned program of ideas, encompassing the nature of what it is and make it happen. There's no telling exactly as to what anyone would expect, but having been in bands over 40 years you kinda get the drift. Answer: Give them what you think they want. There's no rocket science here... it's just rock-n-roll and when the band rolls, the fans rock, scream and shout. When you hear that there's a member from the Knack, they'll want to hear "My Sharona" When it's a member of the Eagles, it's "Hotel California". With Steppenwolf, they're screaming for "Born To Be Wild" and so on. Folks, fans want to hear the big hits. Classic rock fans want songs they're familiar with. End of story.

AS: Do you perform songs exactly like the album-versions, or are they WCR versions?

NS: Getting the players, singers performing with WCR to feel comfortable is an uncharted concept. The government doesn't send out pamphlets on how to start up a new race car, using old parts, get it on the tracks and start winning races... no we're on our own, looking for the end of the rainbow, testing new ice, hoping our songs won't fall apart after four bars. Since each player comes from a different part of the world, we savor the hours available to rehearse each song and the only thing we have is the original recordings to use as a roadmap. Once into the song, whatever that song may be, it takes on a life of it's own. Since all the players are world famous musicians and singers I have no doubt that they, together will make that song sound good! We don't go over the song and beat it to death, neither would I want WCR to turn into a radio/factory jukebox. There's no fun if there's no fun. We enjoy working hard to end up having fun... In a true sense, we're not wanting to put a clone in the dome!!


Plug in and play as if it's the last and only show on earth
AS: How do WCR concerts compare to Steppenwolf concerts for you?

NS: Steppenwolf... is a long word. Need to take a deep breath! John used to run for office like, the presidency of the United States Of America during every show throughout the first tour since no one voted for him running as district councilman in Hollywood in 1968. This was great, but Michael and the rest of the band would encourage John Kay not to rule out playing our songs the way we rehearsed them, meaning if JK would ease up on giving away all the lyrics to our songs beforehand it would be awesome. WCR is a different animal. We all show up for one thing only. Plug in and play as if it's the last and only show on earth since day one till the end of the universe if there is an end at all. We get fired up during our prayer session thanking God for giving us the opportunity to play and perform the songs we know how to play. There is satisfaction in putting hours of private personal time at home, wherever that may be for different members of the band, then assembling it all and delivering each song as a team effort, rather than separate individuals chasing the follow spot! Keep people in the concert venue until the end of the show without franticly running to the nearest exit to the lobby to get themselves a hot dog.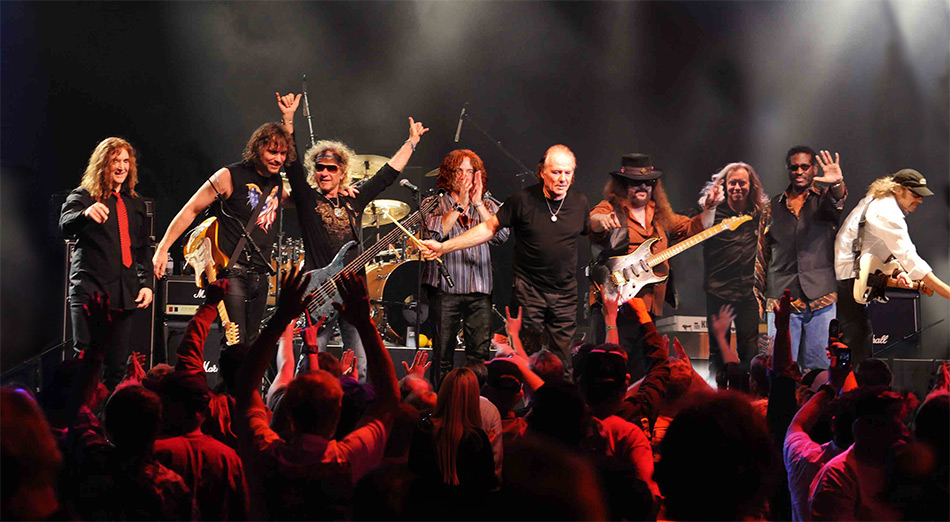 World Classic Rockers

World Classic Rockers (or WCR) is a rock supergroup that was founded in 1995 by Nick St. Nicholas of Steppenwolf. St. Nicholas has toured with the band since its inception, which, in similar fashion to Ringo Starr's All-Starr Band, rotates its lineup depending on the contributing musicians' projects at a given time.

WCR performed for the first time in Fort Lauderdale, Florida on December 10, 1995 with St. Nicholas, Bobby Kimball of Toto, and Joey Molland of Badfinger with Richard Ward, Rosilee, Mike Younce, and Kurt Griffey in the backing band. The three joined Mike Pinera and his Classic Rock All-Stars in putting together a live show for the Harley-Davidson Toys for Tots Run. | World Classic Rockers, Nick St. Nicholas, Bassist, Wcr, Music, Icon, Singer, Songwriter, Steppenwolf, Germany, Rock, Classic,

AS: What can you guarantee a WCR fan they'll see at your show?
NS: Energy up the ying-yang! I look around the stage during the show and notice water on the floor... the guitarists are working the stage like they're in the gym or something... there's a lot of sweat... thank God for towels... there is a lot of movement! During most of the encores, there'll be a number of hand picked volunteers to join the guys up on stage, singing, dancing similar to a Grateful Dead concert. We remind fans that reason for us being there is for them... without the fans, there's not a whole lot going on. WCR has turned into a rock-n-roll show band... we don't know how to just stand there like we're guarding Buckingham Palace. Give us a couple of years, maybe not a bad idea.
AS: Are the band-members as good as they were "way back when?"
NS: This is a short answer, which is: I think so! Michael Monarch and Dave Coyle together, then add Randall Hall... it's a triangle of guitar work unmatched anywhere. It doesn't exist... what I see and hear doesn't exist, but then again, it does. Show up at the next WCR concert and you will witness and see what I mean. It's the guitar dream team! I know, I know... it's saying a lot, but if you where there, you would see what I mean. You cannot draw a picture of sound... you would want to hear it to believe it. I'm not making this up. The great comments keep coming over and over again, long after each performance.
Worse than getting run over by a car
AS: Has "classic-rocker-burn-out" ever plagued WCR?

NS: You would think there would be a WCR burn-out yes... The idea of an end to something that is going well with an endless number of dates coming in is something that you, if you were an active member of WCR wouldn't dwell on. I personally have had my experience dealing with "Lymphoma" for over a year and a half, but had no time for it. I did miss 3 dates and had to get someone to take my place on bass. Missing those dates was worse than getting run over by a car. I have never, ever missed a date since being in a band "The Mynah Birds" with Neil Young and Rick James going back to 1966. I've had blood transfusions like Keith Richards in order to make a date for the American Firefighters Association in Philadelphia a couple of years ago. We unfortunately lost Fergie Frederickson (former lead singer of Toto, cancer), then lost Bruce Gary from The Knack, also from cancer. WCR members come to play, not because they have to, but because they want to. I couldn't see it any other way. You can't force a musician to play..try it... you might end up wearing the guitar like a hat... no worries,... this not the Who, but then again, you never know!


Steppenwolf

Steppenwolf is a Canadian-American rock group formed in late 1961 in Toronto, and was prominent from 1968 to 1972. Songs like "Born to be Wild" and "Magic Carpet Ride" have gone on to be part of American (and global) culture. Even today, they are featured in blockbuster movies, television shows, and more. | Steppenwolf, Rock, Classic Rock, Nick St. Nicholas, John Kay, Music, 1970, Canada, Hair,

AS: Do you genuinely feel like you "still got it?"
NS: I still have my bass! When I feel down, like there's no one around... the world is upside down, shit flying all over the place, like a dog with no bone, no candy for one-year-old Tommy, the floor, walls and ceiling are moving in on you... not trying to sell you an anti-snoring device... honest, but you know what I mean, those gray days, no matter if your better half lets you know your keeping her up at night for sleeping on an angle... I get up and play my bass... I love my bass.
AS: Which of your works are you most proud of?
NS: After arriving in Los Angeles, meeting Janis Joplin, Jimi Hendrix and Jim Morrison becoming friends on the street level, it was time to drift north to San Francisco. Once there, I meeting up with Chet Helms, owner of The Family Dog/ Avalon Ballroom. He gave me enough dates to keep us in the Bay area for the following year. Hello acid, LSD, THC, cocaine, meth, weed, opium, amo nitrate (can't remember the spelling) white lightning, purple haze, the Grateful Dead... they, it, anything, Timothy Leary, Ken Kesey, Owsley... they were all there... showing up one night at the Matrix Ballroom snorting, sniffling, usurping all and everything a bit, at a time while the Sparrow recorded without knowing, the entire Early Steppenwolf album, a live experience of the longest version of "The Pusher" ever recorded and doing so, in front of these mega-important mental leaders of the future culture and fashion around the globe.
Nick St. Nicholas

Nick appearing on the Ed Sullivan Show in 1960. Nick St. Nicholas, born September 28, 1943 in Plön, Germany is a bassist, band leader, singer and songwriter best known for his partnership in Steppenwolf. |

Then they deliver like magic
AS: How do you plan to grow the band and evolve the performances?

NS: Good question! World Classic Rockers is powered by the idea of former members of supergroups coming together on one stage unleashing, performing 90-120 minutes of gold and platinum hits! The growth comes natural, as these are professionals. They know what is expected of each and everyone of them, then they deliver like magic. Boom, it's there... like a kaleidoscope, all the pieces come together and the dates keep rolling in as the band keeps rocking into the future, into the stars and beyond!

AS: Corporate gigs are impossible for just anyone to see. How can an Anytown fan see WCR live?

NS: Go to WCR.com, World Classic Rockers on Facebook, Instagram for all public dates and events! Tell us who you are and where you're from. Send us signals, signs, pictures, videos, news clips!


Frankly, Scarlett...
AS: What is your deserted island, favorite movie?

NS: "Gone With The Wind" and "Vicki, Christina, Barcelona"

AS: You've just been elected president. What is your first major initiative?

NS: My first major initiative would be to have club owners start paying their bands instead of the bands having to pay to play.

AS: How have you kept a band together, without missing a single show, for 20 years?

NS: Ok, that's easy, either egos or I go.